When Facebook introduced its premium ad package about a month ago, the company revealed it includes few more interesting advertising concepts besides the familiar homepage ads (known as Sponsored Stories) such as mobile ads and giant log-out page ads. It was pretty clear that the package won't come cheap.
Now, thanks to a new report we can have some knowledge about this package's price range.
AdAge's Cotton Delo is reporting that the cost for a premium ad package which includes homepage ads and the giant log-out page ads goes beyond $700,000 for one single day! Delo is basing his report on anonymous source that received the information just before the initial announcement about the ad product.
The source is emphasizing that there isn't a possibility to purchase the log-out page ad alone and it's only available through the premium package. The exact division goes something like that: Out of the $700K, $550K are going to homepage ads and additional $150K-$160K are going the the log-out page ad.
I think that the concept of selling real-estate ad space on the log-out page is nothing less than brilliant. Users arriving to this page are obviously already expressed their will to exit Facebook and showing them instantly other online destination "suggestions" is holding a great value (that's just my opinion at least).
According to Facebook own stats there are 37 million users from the U.S. alone who are logging out from the social network every day and 105 million users logging out each month. If we compare it to other web properties reach, Facebook's log-out page is being visited every month about the same as all of AOL properties or Amazon's (according to comScore stats)!
But even though this kind of advertising is holding a great reach potential, there are still many aspects to investigate in that area to improve the ad effectiveness (ROI). Currently, log-out page advertisers can only target log-out users based on gender and/or age, which is relatively much lesser than Facebook's other targeting options.
Despite the challenges, few companies already dive into the log-out page water. Just a few days after this ad product was presented, Microsoft already began advertising its search engine Bing on Facebook log-out page. since then, more companies have experienced with it. Here are couple of log-out page ad examples of Subway and Ford: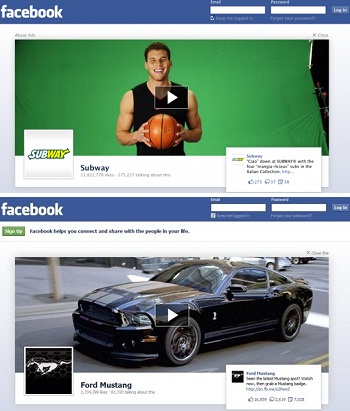 At the moment, advertising on Facebook's log-out page is only available to U.S. advertisers (I assume it will expand globally soon enough). Facebook declined to comment on the subject as its official spokesperson stated that the company doesn't discuss publicly its specific advertising terms and agreements.