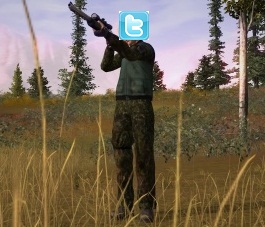 Funny how things are going. Just until last year, Twitter was always rumored to be acquired by other companies (Google, Facebook) and now, its exponential growth alongside its constant refusals to be bought by others made Twitter an acquiring company by itself.
Yesterday, the micro blogging social network has announced it is acquiring the blogging platform and sharing service, Posterous, for an undisclosed sum:
"Today we are welcoming a very talented group from Posterous to Twitter. This team has built an innovative product that makes sharing across the web and mobile devices simple- a goal we share."
This is a very meaningful acquisition for Twitter. Posterous, with its sharing product Spaces, is a really popular site- 10 million unique monthly visitors according to Quantcast, where it confirmed 15 million uniques to AllThingsD last September. But even more important it considered to have a quality team of employees.
In fact, Posterous team may be the main reason Twitter has decided to buy the company. In its announcing statement, Twitter says that Posterous employees will join Twitter's teams "working on several key initiatives". It doesn't sounds like Twitter is going invest in developing Posterous service, right?
But as for the moment, Posterous Spaces will stay alive. Posterous referred to this issue on it own statement, saying that Spaces will stay up and running. However, it feels like it beginning to prepare its users for the same similar fate as GoWalla after it has been acquired by Facebook– Shut down:
"We'll give users ample notice if we make any changes to the service. For users who would like to back up their content or move to another service, we'll share clear instructions for doing so in the coming weeks."
Additionally, on the dedicated acquisition FAQ page Posterous placed, they are repeating this mantra more than a few times while also stating that eNom will take over the user's domain management. I highly suspect that both Twitter and Posterous are beginning a few stages process where in the end, Posterous would leave this world.
What I mostly find interesting from this deal is how Twitter has turned from a small (naive?) company to a (unmerciful?) hunter. Just a couple of weeks ago Posterous claimed on an email (see below) they have no intentions to sell, close or "go anywhere anytime soon". Changing from that to where we are today, it is definitely a big league move.
Welcome to the big league, Twitter.