The Android Market was launched on August 2008 as an app store for, well, Android operating system. Throughout the years more and more features (books, movies, music) that weren't necessarily related to Android have been added, making the Android Market a provider of wide range of digital media services.
So now, Google is killing the "Android Market" and reviving it as "Google Play".
The whole idea behind Google Play is to unify all of Google's cloud-based digital content services (apps, games, music, movies, ebooks) for all devices (smartphone, tablet, desktop and even TV) in one "entertainment hub". Because everything is based on the cloud, the data is stored online and its available across all the user's devices, or as Google stated in its official announcement:
"Google Play is entirely cloud-based so all your music, movies, books and apps are stored online, always available to you, and you never have to worry about losing them or moving them again." (Google's director of digital content, Jamie Rosenberg)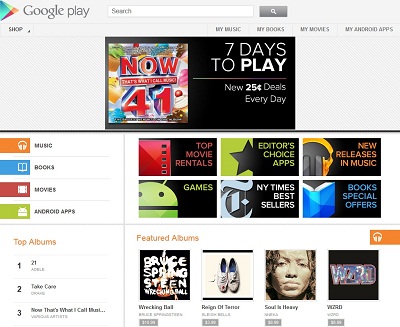 Besides the Android Market, Google additionally merged Google Music and Google eBookstore into their dedicated sections inside Google Play. Surprisingly, currently there's no integration of YouTube into Google Play and the movies section serves as a separate movie service at this point. I'm guessing that Google won't integrate such an important brand like YouTube before the initial "test drive".
The main reason for all of this rebranding of the Android Market into Google Play is pretty simple- Google didn't want to portray its digital contents destination as a specific platform/OS service, where the name itself, the "ANDROID market", did exactly that. Therefore, like it or not, the new name is catchy and simple enough to cover a variety of content services.
Sounds pretty logical to me.
Although the Google Play portal is already live worldwide, not all of its services are available in every country. In fact, only users from few other countries except for the U.S. can enjoy it completely. Here's how the service is available across the globe:
Apps- Available in most countries (for the full list click here).
Movies- Only available in the U.S., the U.K., Canada and Japan.
eBooks- Only available in the U.S., the U.K, Canada and Australia.
Music- Available only in the U.S.
Google are stating that they will expand the services internationally in a gradual process over time, but they didn't released any estimated time evaluation. Again, I suspect that they first wants to see how audiences react in those certain countries before rolling out a full global edition.
For mobile devices with Android 2.2 or higher, the old Android Market app suppose to update automatically to the new Google Play Store app over the upcoming days, while mobile devices with Android 2.1 or lower will still run the old Android Market app at this point in time.
I'm really hoping that this service will succeed, just for the basic business principle that competition is a good thing and sometimes even crucial. For example, just take a look on how Facebook has improved drastically ever since the launch of Google+ and it is now providing a much better experience for both users and businesses.
You can also see what happens when there's almost no competition at all at another industry- Google search engine became its own worst enemy. But that is a giant topic by itself to discuss in a different post.