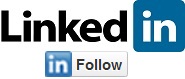 It is pretty surprising that the largest professional social network, LinkedIn upon its more than 150 million members, didn't had a social company following button for external websites until now. After all, as a business-oriented social network it should have granted an easy way to follow companies.
But even though arriving to the party a bit late, today LinkedIn has finally announced it is rolling out its own button to follow companies for websites outside of LinkedIn's network, so users will have an easy and fast way to connect with their favorite brands in one click on different online destinations besides LinkedIn.
Installing a company follow button is pretty easy:
Enter this build a follow company button page.
Type the name of your company.
Choose if you would like the button with followers count or not.
Hit on "Get Code" and copy it into where you want it to appear on your page.
Here's an example of the company follow button for Working Home Guide (Don't be shy to click):
When someone will click on the follow button he will begin following the company if he is logged in. If he's not, then the sign in page will pop up and after the user will enter his details, he will begin following the company.
This button will surely help LinkedIn to increase the user's engagement with companies from the network (over two million companies according to LinkedIn's data), which already was according to recent study, the most engaging from recruiting/job hunting point of view.
The company/brand follow button has been proved to be highly effective for other social networks like Twitter and Google+, where people find the whole one-click-and-follow concept as very attractive and appealing.
Right now, three out of the top four social networks have a one-click company/brand follow button (Twitter, Google+ and LinkedIn) where Facebook is the only one that yet to launch it, but it probably also introduce this kind of button soon enough.
In any case, here's a video that elaborates the ways to follow a company on LinkedIn (including the follow button):