And the race for social search continues… Bing is taking another step for further deeper personalized search results based on social networks (Facebook in this case) by allowing the users themselves choosing which websites and pages that related to them will appear in the results.
The Bing search team released a blog post yesterday announcing on this new feature, called Linked Pages, which essentially lets Bing's users (through Facebook connect) to determine which results will appear whenever their Facebook friends are searching for their name.
In the post, Bing providing an example of someone called John Smith which is a very common name. The Linked Pages feature will allow Mr. Smith to decide which are the right results that relates to his identity for his opinion. After doing so, Whenever his Facebook friends will search for his name, this is what they will see at the top results: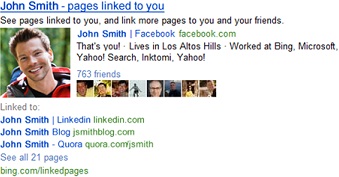 How To Use Linked Pages
Enter Linked Pages and click on the "Get Started" button.
Allow Bing access to your Facebook account.
In the next page you'll see the search results for your name. Choose which pages related to you and click on the "Link to me" button (or "Unlink me" if you clicked by mistake).
To link website/pages to your friends, click on the "Link to other friends" next to the result and type the name of the friend you wish to link the page to (Bing will auto-complete the name once typing).
When some of your friends will link you to a page, you will notified via Facebook. If someone linked you to a page and you don't like it, you can "Unlink" it and the certain page will never be linked to you again unless you do it yourself.
I have to admit that I don't like this feature very much for a few reasons:
Whenever I am searching for someone (even a Facebook friend), I expect to see the most relevant results related to this person. Sure, Linked Pages is showing results that are 100% related to the person but they are also distorted in a way the results for WHAT HE/SHE WANTS TO APPEAR and may devalue other relevant results he/she doesn't wants to appear!
Linked Pages is somewhat neutralizing the need for Bing- If I want to reveal what my friends are recommending about themselves, I will simply enter one of their social networks profile.
Although the possibility for the user to unlink pages that have been linked by friends exist, if a user didn't pay attention to his Facebook notifications or didn't logged in at all to his Facebook account, it can cause discomfort if someone linking unfavorable page to him/her.
If Bing has such a "tight relationship" with Facebook, why it isn't simply doing it automatically by using links at the user's Facebook profile and save us the trouble?
It may be just my simple opinion but so far, neither Bing with this feature or Google with Search Plus Your World (which I opted out by default), have yet provided a real good social search…