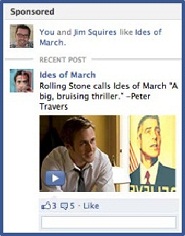 Lately it seems that a big portion of the recent news from Facebook are somehow related to advertising. Does it has a connection to the fact Facebook will go public soon? You should be very naive to think otherwise. In any case, Facebook is reportedly about to launch new ad product (surprise!) by the end of the month.
The tech blog GigaOm has posted yesterday secret leaked documents from Facebook which introduces new upgraded Premium Ad products. Facebook suppose to officially announce about it next week on February 29th at the company's Marketing Conference (where it also reported before to announce the Timeline for brand pages).
As presented in the documents, The main concept behind the upgraded ads is pretty simple- "Anything you can post on your page, you can turn into ads." Or in my words- "Wherever we can make money on our social network, we will do it" (a bit sarcastic and slightly unfair, but I couldn't help myself).
Facebook is revealing (all allegedly at the moment) that the new ads will carry more social elements in prominent places while they are driving 40% more engagement, 80% increase in brand recognition and 16% rise in fan rate. Pretty impressive stats…
Another big upgrade that the new ad formats will receive is the possibility to target them for basically any user on Facebook and not only for fans or friends of fans. Facebook intends to shut down the following Classic Premium ads:
Premium Like
Premium Event
Video Comment
Premium Poll
There will be six Upgraded Premium ad formats that will replace them:
Photo- 168×128 px photo with up to 90 characters of text.
video- 185×104 px video with up to 90 characters of text.
Question- Four answers or three and "see more" link.
Status- Up to 150 characters simple text.
Event/Link- 75×75 px photo with up to 90 characters text.
Premium Standard and Marketplace ads will remain available.
In a different set of leaked documents, apparently Facebook is also releasing an ads guide for advertisers where it includes posting practices suggestions such as abstract content, post enhancement with rich media contents and posting timing.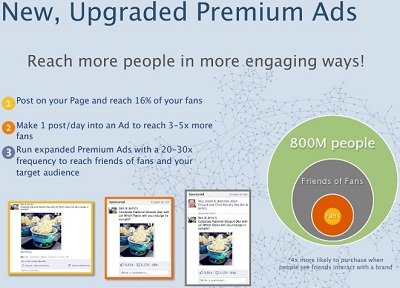 Update: Facebook has launched new premium Reach Generator ad package on its fMC event which includes mobile ads, logout page ad and more.