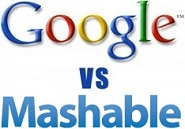 I am not a big PageRank fan (to say the least). In fact, i think that people should stop caring about the periodical PageRank update as it almost doesn't indicate about anything anymore. However, in very rare cases, it does.
Today when I began my traditional browsing roundup of the top web news sites, I discovered that for one of the most reputable and popular tech blogs (although not everybody agrees), Mashable's homepage PageRank has been dropped to 0! To be sure, I checked it via other browsers and even through PageRank checker sites but the PageRank bar remained empty in all cases.
Normally, I don't really think that there is much difference between PageRank 4, 5, 6 or 7 but whenever such a high profile site's homepage PageRank is indicating on an empty bar (0) it usually says that something serious happened, most likely some sort of Google penalty.
To dive deeper into this issue, I turned to the website's best friend (or enemy?), Google. I searched directly for the term "mashable" and although the blog was still ranked first, all of its sitelinks has disappeared!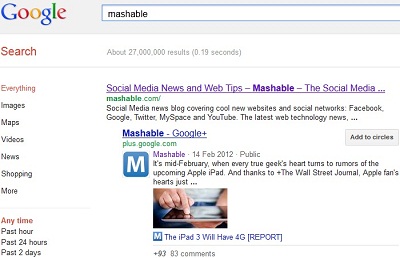 It is very surprising that Google search for Mashable's brand name doesn't result sitelinks even though Google didn't gave up on the Search Plus Your World integration. But although these were indications on problems with Mashable's homepage, there weren't any negative indications on the rest of the site's categories.
All of Mashable's sections kept their prior high PageRank (mostly 6) and they are also resulting sitelinks in Google. For example, here's what come up in Google when searching for "mashable entertainment":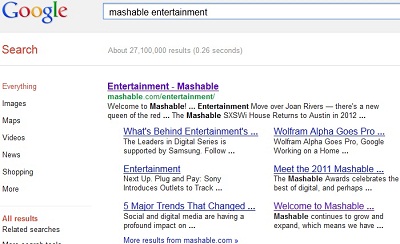 So after examining Mashable homepage and sections, I decided to check specific articles rankings. I conducted searches for multiple Mashable's accurate article headlines and almost all of the results on the first page were scraper sites, while the actual Mashable article appeared mostly only on the second results page!
When i conducted the same searches in Google News, it looks like Mashable rankings was left untouched as the articles ranked for the first place for their headlines.
All signs are pointing out that Mashable was penalized in some way by Google and if indeed it is the case, it is a big hit for the popular tech blog- According to Alexa, Google is responsible for about 20% of Mashable's total traffic.
I contacted Mashable for their comment on the subject and I will update if/when they will respond.