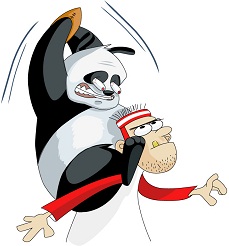 "I waited for someone to wake me up from this nightmare. I couldn't believe that the stats in front of me are real. After i made a double/triple/quadruple check, i began realizing that the worse might have happened. The thing i only heard of before and just mentioning it made me shiver, occurred TO ME. I was attacked by Google Panda."
This scenario is something that more than a few webmasters have experienced with for over the last 12 months since Google released their Panda bulldozer search algorithm. Although this algorithm has evolved since its initial launch and just this week i speculated that it might have even divided into different algorithms, wounded webmasters are only interest about one thing- Recovery.
Even though i discussed about this topic many times in the past, i received three new personal requests lately (from very frustrated webmasters) to discuss about it again and to find out if its really possible to recover from being hit by Panda. So, over the last couple of days i was researching a bit, looking for information about Panda recovery stories.
From what i found, i have good news and bad news for those anonymous frustrated webmasters: The good news are that it is possible to recover. The bad news are that it is very difficult.
Poll: Most Webmasters Didn't recovered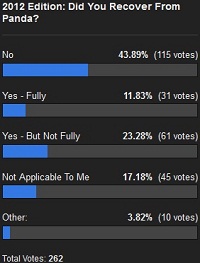 Barry Schwartz from Search Engine Roundtable (he was the first to receive confirmation from Google about the Panda update in January) has posted a recent poll, asking his loyal community of webmasters if they recovered from the Panda algorithm. So far, 262 people have given their vote (the poll is still ongoing).
Nearly 44% (115 votes) have answered "No", 23.3% (61 votes) answered "Yes, But Not Fully" and only 11.8% (31 votes) have answered "Yes, Fully". Additionally, 17.2% (45 votes) answered "Not Applicable To Me" and 3.8% (10 votes) answered "Other".
If we filter the "Not Applicable To Me" and "Other" votes, we get that approximately only 1 out of 7 webmasters that got hit from Panda recovered fully, while more than half haven't recovered at all. Did i mentioned already possible but very difficult?
Panda Recovery Stories
To provide more proofs that Panda recovery isn't a mission impossible, i found two reliable stories that their stats can be confirmed. The first story was written by Jon Wade where he is elaborating the timeline leading to his Panda hit and the recovery after it. Although he isn't describing what actions he actually took in order to escape from his Pandalized fate, he still provides some good insights.
Without getting into specifics, Jon Wade is basically saying that he tried to follow Google's quality guideline questions webmasters should ask themselves as much as he possibly could: "…do read those Google guidelines again. Then read them again. And then again. The answer is in there."
The second story (and probably more famous) belongs to DaniWeb that was hit from the very first Panda in February 2011. The founder Dani Horowitz has shared her recovery story pretty openly, disclosing what exactly they did to slowly get the site's traffic back on track again- Using the Canonical tag, proper 301 redirects, improving page's loading time and more.
Dani also offered a thorough video interview of nearly 20 minutes, sharing her complete experience honestly so more Panda-affected webmasters would learn. Here's the full interview: