One of Yahoo's winning cards (one of the few left) for the last three years or so, its the company's personalized news algorithm. The first time i covered it was six months ago (August 2011) when i reported this algorithm almost tripled Yahoo News clicks (which is today even higher). Now, Yahoo is giving it the spotlight.
Yesterday, in a post on its official blog, Yahoo has explained and elaborated about its C.O.R.E. (Content Optimization and Relevance Engine) algorithms that are designated to personalize contents especially for the user. But this wasn't the most interesting thing it introduced.
Visualization Tool Powered By C.O.R.E.
Yahoo also presented a great visualization tool that is showing how exactly the C.O.R.E. algorithms are working on real time. The tool is basically allowing to "play" with how the algorithms are targeting contents for users. Here's a screenshot image of how it looks like: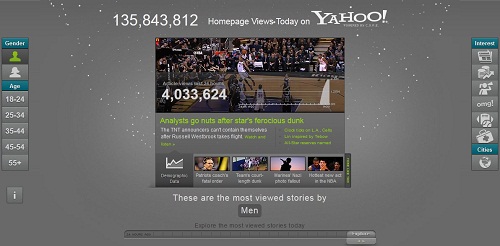 The tool is being updated in real time and showing contents based on the user's selection of gender, five age groups, interests (such as "news", "finance" and my favorite "OMG") and even few selected cities in the U.S. additionally, the tool is allowing to see the demographic stats for each article.
The C.O.R.E. works like this: After an article is published, the C.O.R.E. algorithms immediately begins to analyze the audience that click on the articles to target it for suitable users. With the so many visits Yahoo's homepage, i guess it takes no more than just a few seconds to target an article for specific audiences.
Even though the whole process is completely automatic, sometimes Yahoo's editorial team takes a manual action to highlight a certain article for all users, for instance in cases of major events or breaking news.
Highly Successful Service
C.O.R.E. turned out to be a great success story for Yahoo. It increased the level of user engagement tremendously: Yahoo stating that with this personalized content algorithm, people are clicking on their selected articles four times more than they clicked in the past and generally, a billion times more for a month in total!
Actually, i think that Yahoo probably found its way to provide proven-to-be-working personalized contents experience for the users (watch and learn, Search Plus Your World). This is certainly a service Yahoo should be proud at and it makes almost all of us remember why we fell in love with this company many years ago.