Every webmaster know that the best indication for his website quality is eventually based on one thing only- Traffic. Traffic is the oxygen for websites and without it they couldn't survive throughout time. But, which are the top sources online that drives this precious traffic to websites?
To analyze it, i think that first we need to distinguish between the most popular sites from each category online to all others. The most popular websites traffic sources are completely different and unproportional compared to the other websites due to variance of their basic characteristics:
Much more established social media presence (social media traffic).
Completely different linking profile (traffic from other sites).
Much better and prioritized search rankings (search traffic).
All these elements makes it very difficult to analyze effectively the most popular websites alongside all other websites. Therefore, i will separate between them and present different analysis for the top traffic sources on the web.
Top 30 Websites Traffic Sources
In the recent Citi's Annual Net Influence report, the company has analyzed the biggest traffic sources (mostly focusing on search traffic) based on comScore stats of the top five websites from six different categories- Media, retail, travel, auto, finance and health (overall 30 websites).
The findings of the report indicating that the biggest traffic sources of those top 30 websites are search engines. In January 2012, search referral traffic was responsible for 33% of the total traffic of the top websites where Google accounted for 16%, Yahoo for 11% and Microsoft (Bing) for 6%.

In fact, the top 30 websites have managed to keep the 33% search traffic rate for at least the last three years (since Citi first published this annual report). However, the inner search distribution has slightly changed- In 2012, Google lost 1% share where and (pretty surprisingly) Yahoo took this 1% while Bing kept the same share.
All Other Websites Traffic Sources
The content sharing site, Shareaholic, posted an analysis of 200,000 websites traffic sources driven from more than 260 million visitors in January 2012. The analysis has revealed that the 200,000 websites examined, are much more dependable on search referral traffic than the top 30 websites.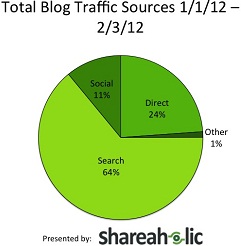 Search engines were accounted for 64% of the websites traffic, almost double than the top 30 websites! Direct traffic accounted for 24% and social networking sites were responsible for 11% of the sites traffic.
My Website Traffic Sources
To complete the analysis i chose to review my own website traffic sources for January 2012. As predicted, Working Home Guide traffic stats are much closer to the stats from Shareaholic report ("normal" websites) than Citi's (top websites), however, the stats are still distributed a little differently.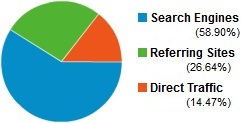 Traffic from search engines was responsible for about 59% of Working Home Guide total traffic, referring sites (including social sources where Pinterest took the lead) accounted for about 27% and direct accounted for slightly over 14%.