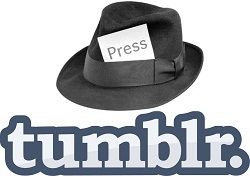 It wouldn't surprise anybody if i will say that today we can find the most recent news, updates and interesting opinions in the social media, in contents created by the users. The (highly) popular blogging platform, Tumblr, decided to take it one step forward and hired two professional writers to cover the hottest topics WITHIN the social community.
But the efforts to upgrade the social networking site to a more relevant and topical blogging platform didn't stopped there. Following this move, the company has made another related step to improve the usage of the platform as a better news source- Now, the Tumblr's users have the ability to highlight specific posts of their choice for the modest sum of $1.
Two Professional Writers For "Real Journalism"
With nearly 44 million blogs powered by Tumblr and growing exponentially through time, the social blogging platform has decided to hire two professional writers to offer bloggers more coverage and increased exposure in a designated section of the site where they will review posts, blogs and bloggers from the social community itself.
The two writers are pretty reputable and industry-known journalists: The Senior content VP at BlackBook Media, Chris Mohney, as the editor in chief of the new covering section and the reporter of Newsweek and The Daily Beast, Jessica Bennett, as an executive editor. According to Tumblr's VP, Andrew McLaughlin, The two suppose to provide "real journalism and analysis, not PR fluff".
It is still unclear where exactly the two will post their Tumblr's coverage and although few rumors are pointing on the site's Staff Blog, i doubt if Tumblr will use their corporate blog for another purpose that is different in essence. After all, Tumblr is a blogging platform so it wouldn't be too difficult to give them their own blog…
Highlight Post For One Dollar Feature
In what is seems as another effort to upgrade Tumblr as more supportive news-worthy blogging platform, the company has announced that now, Tumblr's bloggers can highlight their important posts with a special sticker that can appear in different forms (such as heart, megaphone and even unicorn) and messages (such as Urgent, Big News and Cool).
The new feature is probably at least partially related to the statement of Tumblr's CEO and founder, David Karp, about two weeks ago that they are looking for other means of revenue that are really beneficial for the social blogging community. I don't suggest that $1 for highlighted post will make them extremely profitable, but it might be just a test drive to see how the community interact with it before deciding if pricing it up.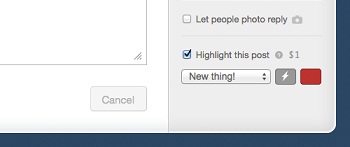 I think that these two recent moves by Tumblr is indicating on a decision of the company to take more significant part in the social blogging industry and i even dare to say news industry, by becoming more supportive and attracted for talented bloggers that seeks friendly and exposing platform.