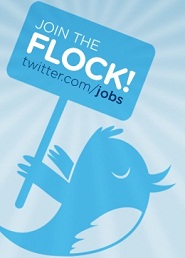 Working for one of the rapidly growing technology companies is a dream of many engineers, designers, data analysts and others who are looking to refresh their current workplace (or their unemployment status). Well, this dream might be a little more possible these days as Twitter recently began a new recruiting campaign…
Twitter's Recruiting Campaign
For the recruiting purpose, Twitter has invigorated its jobs section and launched couple of the funniest commercial videos i have seen lately. For example, one is a parody video (watch it at the bottom) where two employees are presenting to Dick Costolo (Twitter's CEO) the new "inspirational video" to convince people to work for Twitter. It is simply hilarious…
At the moment, there are dozens of open positions to apply in many different professions- From many senior executives jobs, through all types of engineering positions and to researchers/analysts vacancies. Twitter isn't looking to hire in the U.S. alone but also to expand internationally (as i suggested last week)- So far i saw vacancies in Japan, Ireland and England.
Twitter is known for compensating its employees generously and as well providing them many perks such as paid maternity/paternity leave, classes of Yoga and Pilates, all kinds of discounts and more. If you want to impress more, Twitter is organizing an International Engineering Open House on February 2nd at the company's HQ in San Francisco.
The Tech Hiring Battle
In the last few years there is a secret war between technology companies for hiring the best employees (mostly engineers) in order to improve the companies products and services as much as possible with these talents. In a world where every new innovative feature or update is a game changer, you need the best players at your side.
This is why companies are trying all kinds of creative ideas to allure gifted people come work for them. You can witness it in Twitter's new videos and in Facebook's Hacker Cup where the social network giant is "making" programmers to compete for the privilege to work for the company. These are definitely good days to be a tech geek…