After comScore has released lately its top web brands and online video rankings reports for December 2011, another research company, Nielsen, has published its own reports. The reports of both companies have shown correlated findings among almost all segments, which can indicate on accurate web measuring.
Nielsen is reporting that nearly 212 million people in the U.S. have used the internet in December 2011, out of 273 million people that could have access the web. On average, each person visited 94 domains and 2803 pages while spending slightly more than 28 hours online (about a minute for each page).
Top Web Brands
In Nielsen's top web brands report, YouTube is separate from Google sites and MSN/WindowsLive/Bing are separate from Microsoft sites. Therefore, it probably isn't reflecting completely the top web brands (this is why i like comScore reports better). However, it can offer more detailed insights about specific properties.
Google sites (excluding YouTube) ranked first with 173.3 million monthly unique visitors, before Facebook's 153.4 million visitors. However, Facebook's visitors are more engaging- the average time spent on Facebook (411 minutes) is 4.5 times higher than in Google sites (91 minutes).
Yahoo sites are in the third place with 144.2 million visitors, before MSN/WindowsLive/Bing (128.8 million visits) and YouTube (128.1 million visits) that completes the top 5. Amazon also performed well in December (holiday season shopping) with 88 million visitors, below Microsoft's 100 million visitors.
I want to point out on AOL sites that ranked 8th, however have relatively high level of engagement (171 minutes on average), probably due to the many content sites AOL holds (TechCrunch, The Huffington Post, Engadget, etc).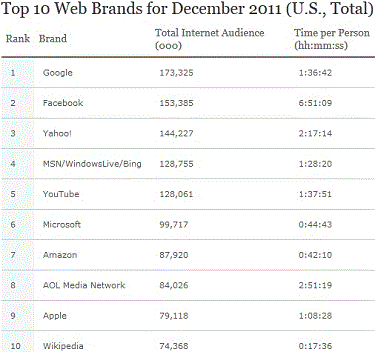 Online Video Rankings
In Nielsen's top video destinations report, YouTube is unsurprisingly also the undisputed king of online videos with 131.4 million visitors in December, more than triple as much as the second VEVO that had 39.8 million visitors. Yahoo sites are also pretty popular online video destinations with 36.7 million visitors in the third place.
Facebook is the biggest dropper as an online video destination this month (as also indicated in comScore's report) with 23.5 million visitors (down 22% from the month before) in the fourth place, slightly above MSN/WindowsLive/Bing with 23 million visitors which ranked fifth.
In terms of average time watched for each viewer, Netflix, that didn't even entered the top 10, is first (607 minutes) with a big gap before Hulu (188 minutes) and YouTube (182 minutes).