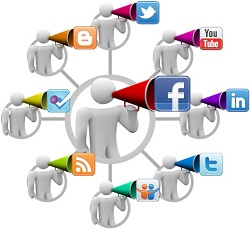 The rapid growth of social networking in recent years surprised not only technology analysts but also many online business owners and professional marketers that found marketing, monitoring and measuring practices in these platforms as very difficult assignments. But with the arrival of 2012 social media marketing may be evolve and improve.
In this post i will try to examine where online marketers stands today and what are their plans regarding to social media marketing in the professional level over the year to come. To do so, i will extract the most relevant findings from a recent survey of the social marketing software, Awareness, among 320 company's marketers from varied industries.
2012 Challenges: Resources, Measuring and Managing
The biggest challenge marketers expect to deal with in 2012 is a lack of resources (funds, manpower). The rest of the challenges relates to general lack of knowledge/experience (measuring, managing, integrating, monitoring) that shows the difficulties marketers still have in the social media marketing practice.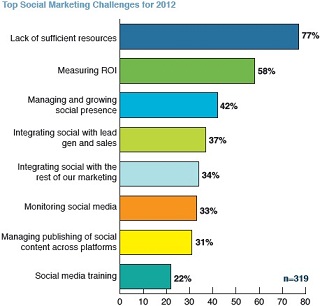 Most Monitor The Brand's Social Media Mentions
Despite the difficulties, most marketers (78%) still monitor the brand's mentions in the different social networking channels at least few times a week. Additional 14% plans to begin monitoring in 2012 while only 8% don't monitor and don't plan to.
Using Monitoring Tools But Not Management Platforms
Most marketers are using a variety of free (88%) or paid (64%) monitoring tools, however, not yet social media management platforms (SMM). Only 19% are using SMM and additional 25% plans to use them while 56% don't use and don't plan to.
The Majority Measuring ROI By Followers, Traffic Or Mentions
The big majority of companies are measuring the social media marketing efficiency through ROI- 52% already do so and 30% more plans to in 2012. To define ROI, marketers are using metrics such as number of followers (76%), traffic to their site (67%) and general social mentions all over the social platform (53%).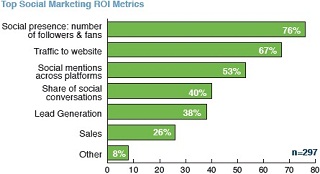 Most Popular Platforms: Facebook, Twitter, LinkedIn and Blogs
The most popular platforms are the top social networks Facebook (88% currently+6% plans to), Twitter (83% currently+8% plans to) and LinkedIn (76% currently+10% plans to). Significantly growing social platforms are blogs (57% currently+28% plans to) and YouTube (66% currently+18% plans to).