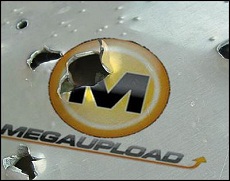 If you tried to enter the popular file hosting and sharing site MegaUpload since yesterday, the site hasn't been loaded and it is not because of the SOPA blackout protest. MegaUpload has been shut down by the federal government and the FBI has charged 7 individuals with online piracy crimes.
The Charges
According to an announcement from the Department of Justice, the seven people have operated an "international organized criminal enterprise" and this is one of the biggest copyright infringement cases in the history. The DOJ are estimating that MegaUpload generated more than $175 million and caused a $500 million damage to the copyright owners.
Out of the seven charged people, four were already arrested in New Zealand: MegaUpload's founder Kim Schmitz (more known as Kim Dotcom), the CMO Finn Batato, the CTO Mathias Ortmann and the site's programmer Bram van der Kolk. They are facing a penalty of up to 55 years (!) in prison for charges of Racketeering, copyright infringement and money laundering.
But don't think that the MegaUpload fellows are going without a fight. Shortly before the feds have taken down the site, MegaUpload have stated that they aren't intending to give up and they are even reaching out to the entertainment industry for a collaboration of some sort:
"The fact is that the vast majority of Mega's Internet traffic is legitimate, and we are here to stay. If the content industry would like to take advantage of our popularity, we are happy to enter into a dialogue. We have some good ideas. Please get in touch." (MegaUpload Statement)
One Of Popular Sites On The Web
MegaUpload gained an amazing success since its launch in 2005 and almost frequently was among the top 100 most popular websites in the world (currently its Alexa rank is 72, which will drop very soon). Just last month it released a video clip commercial (see below) featuring P Diddy, Kanye West, Kim Kardashian and many more celebrities.
Anonymous Retaliates With The Largest Attack Ever
The hacker organization Anonymous has decided to take a severe action against anybody who is associated with the shut down of MegaUpload and launched its largest attack ever yesterday afternoon. The organization has crashed many big websites such as the Department of Justice, FBI, U.S. Copyright Office, MPAA, Universal Music, RIAA, Warner Music Group and more.
It seems that the attack is still ongoing and don't be surprise to see additional government websites and websites from the entertainment industry crashing in the near future. The organization also released an emergency video (watch below) calling for a worldwide internet protest after the U.S. government began censoring the internet (the shut down of MegaUpload).