New report is indicating that the biggest daily deal site, Groupon, is continuing to increase its earnings and to grow during the last few months of 2011 while showing better development rate from the industry. In an effort to grow even furthermore, Groupon is also introducing a new Merchant Center to provide enhanced support and tools for merchants.
Yipit: Groupon 6% Earnings Increase In November, Outperform Industry
The daily deal aggregator, Yipit, has just released a new report that covers Groupon's performances in North America during October to November compared to the daily deal industry in general. Groupon's had a 6% earnings increase where in October it earned $145 million and in November it went up to $154 million.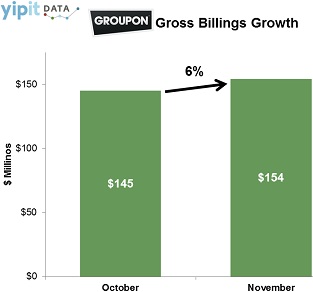 Groupon's profit growth is outperforming the daily deal industry as it grows "only" by 2% at the same period from $267 million to $273 million. Groupon also increased its deal industry's market share- From 54.3% in October to 56.4% in November.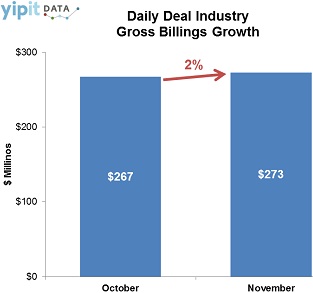 New Improved Merchant Center
Groupon has an obvious clear interest Offering merchants better support and performances analysis tools so they would raise their sales rate and profits (and consequently Groupon's). Therefore, it isn't surprising that the company has announced on launching a new and improved Merchant Center dashboard, that will provide greater glance on the merchant performances.
The new dashboard now offers more demographic stats (like age, sex, and zip codes) as the Deal Statistics service has been implemented inside. However, the best addition i found is the customer feedback feature (as in the screenshot below) that calculates the customers recommendation percentage and highlighting recent verbal customer comments.