Many online companies are offering monetary rewards and prizes for users that helps them identifying security issues. Lately, Facebook took its program one step forward when expanding the company Security Bug Bounty plan by offering security researchers new exciting bonus- Visa's debit card.
Facebook Bounty Program
About six months ago, Facebook launched its own security bounty program where users (or "security researchers" as called by Facebook) that successfully identifies security bugs on the social network would receive a cash reward of $500 (or more if it is some real special bug) for each proved case.
The program only applies on Facebook's own products, features and applications while security bugs discovery for third party apps and sites aren't included. The program is open for researchers from all around the world (except countries under U.S. sanctions like North Korea) and naturally, only the first researcher that reports the specific bug is eligible for the reward.
Another Incentive – Debit Card
Facebook has cooperated with Visa to launch a special treat for security researchers that finds and report security flaws of the social network- Debit card labeled "WHITE HAT BUG BOUNTY PROGRAM" (as in the photo below), for which the company will transfer the money rewards to.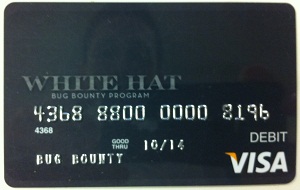 Ryan McGeehan, an executive in Facebook's security team, has been quoted of saying that the company is intending to offer security researchers more perks with the new debit card besides cash like parties and conferences exclusive passes as the company is also looking for other creative ways to thank security researchers.
Since the launch of the bounty security program and until now there have been more than 80 people that received different cash rewards where the highest one known is for $5,000. So if you are some security researcher, it can be a great worthwhile opportunity for you to earn online.