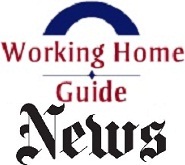 The last week of December (and of 2011) was one of the weakest online business news week of the year- Experian Hitwise, StumbleUpon, WorkingHomeGuide.com and Nielsen have summarized the year, Google+ estimated to have 60-70 million users and Google tested email subscription directly in the search results. Here we go:
Hitwise Yearly Review 2011 – In its yearly summary, Experian Hitwise has posted the top search terms ("Facebook" at the top for the third year in a row) and most visited websites (Facebook first, Google second) for 2011.
StumbleUpon In 2011 Review – The growing social networking service, StumbleUpon, has posted the most prominent yearly events on a monthly basis as reflected in the service and the top search queries in the new Explore Box.
WorkingHomeGuide.com Top Posts For 2011 – In order to review (in a way) the passing year, we decided to mark what were our site's top 10 most popular posts of the year.
Nielsen Digital World Review 2011 – Another research company, Nielsen, also summarized the year with its rankings of the most visited web brands (Google, Facebook), most visited social networking and blogs sites (Facebook, Blogger) and the top online video sites (YouTube, VEVO).
Google+ Has 60-70 Million Users (Estimations) – This week i estimated that Google+ has 65-70 million active users based on traffic stats and Paul Allen released its latest estimation of 62 million users, while also forecasting that by the end of 2012 it will reach for 400 million users.
Google Testing Email Subscription In Search Results – After many reports (and screenshots) on the internet this week, Google has confirmed that it is experimenting email subscription options directly from the ads section of the search results page.
Goodbye 2011 news, hello 2012 headlines! Stay tuned for daily updates here in our site!