Apparently, Google has made some new changes and experiments lately that can affect both advertisers and publishers: First, there were reports on the web that Google is experimenting with email subscription options directly from the search results and second, the company announced that AdSense will automatically adjust the font size and colors in ads.
Email Subscription In Search Results
There are numerous reports on the web that Google has began implementing email subscription option directly in the search results inside the ads section (AdWords). This will provide advertisers the possibility to enlarge their subscription list directly from the search results page as the sign up box will appear on the ad (see screenshot below).
Google representative already confirmed this experiment to TechCrunch and added that if the user is logged into his Google account, his Gmail address will automatically showed in the subscription box. If the user will decide to subscribe to the advertiser newsletter, it will be sent to the advertiser directly. Additionally, it seems that the advertiser will have to also post a link to his privacy statement next the subscription box.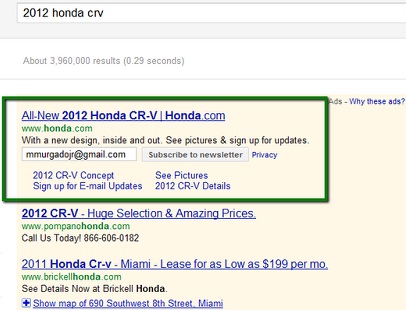 AdSense Automatically Choose Ads Font Size and Color
Google has announced recently that it improved its AdSense algorithm, so it would identify and adjust the ads fonts to the best optimized settings in order to maximize their performances. The optimization will be based on a few factors like the user's operating system, browser and the ad(s) settings themselves.
This improvement will only affect ad units of publishers that defined their font family and font size as "AdSense default font family/size". Ad units that have been customized otherwise will remain as they were, However, AdSense is encouraging publishers to give the new improvement a chance and try it.