comScore has released its monthly top web brands (by visitors) report for November 2011 and although there weren't any drastic changes at the top 10 positions from the last few months and the main beneficiaries were the retail sites, Microsoft managed to climb one place to be the second most popular web brand, switching places with Yahoo. Here are the top 10 web brands for November 2011: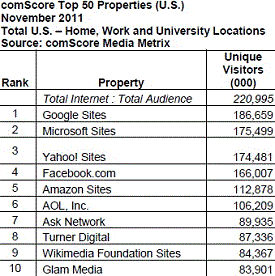 The Top Five Web Brands
Google sites remained the top web brand with 186.7 million visitors in November, almost exactly like in October. Microsoft sites with 175.5 million visitors (+1.3% from October) progressed to the second place after surpassing Yahoo sites with 174.5 million visitors (+0.4%) that went down to the third place.
Facebook is fourth with 166 million visitors, the same number like last month. Amazon with 112.9 million visitors thanks to strong holiday season increase (+5.5%) is fifth, throwing away AOL's 106.2 million visits (-1.7%) from the top 5.
Biggest Gainers – Retail Sites
The holiday season has benefit mostly retail sites which constituted all the top 10 biggest gainers. ShopLocal had the biggest increase in visitors (+132%) and Best Buy sites were second with an increase of 73%. Target has jumped 20 places and ranked 26th with an increase of 48.3%. Sears sites entered the top 50 web brands landing at the 38th place with an increase of 40.6% visitors. Here are the top 10 web brands gainers: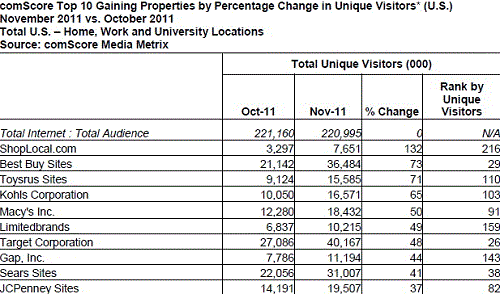 Other Notable Changes
WordPress has disappeared from the top 50 list after ranked 20th last month, while its partner Federated Media Publishing had an incredible increase of 60.9%, however, i suspect it is some sort of mistake, where WordPress traffic stats may be swallowed by Federated Media Publishing. At any case, it doesn't seems reasonable or logical that WordPress traffic has suddenly declined by at least 45%…
Wall-Mart has advanced to the 18th from the 23rd position after a rise of 29.4% in visits, again due to the holiday season. Comcast jumped 3 places to be 19th with an increase of 8.9% to 51.2 million visits. The Weather Channel has dropped 3 places and by 5.5% to rank 20th with 55.3 million visits.