Coordinating effectively between the social media marketing techniques to the consumers expectations, can be a great challenge to overcome. Many times, online business owners fails to market efficiently simply because they don't understand what the users actually wants. In this post, i would like to bring closer social media marketers to the consumers by presenting the two perceptions.
To do so, i will use a recent report by CMO Council that examined how can brands offer consumers better experience on the social media. In the report, 1300+ consumers and 132 senior marketers have been surveyed separately about issues that relates to the brands social media tactics in one hand and the consumers social media usages and expectations on the other hand.
Do Marketers Leverage The Social Media?
It seems that the big majority of marketers do leverage the social media: 65% of the marketers are using the social media to gather all kind of personal insights from customers, 51% are using the social media to arouse discussions on certain topics for market intelligence, 43% are leveraging the social media for their deals promotions, coupons and discounts and 40% are using the social media for counter intelligence (gathering information from competitors). Only 18% don't leverage the social media.
How Marketers Perceived "Likes"?
57% of marketers perceived "Likes" as a signal for accepting and agreeing with their contents, 41% believes it is the way of consumers to be heard, 40% think that consumers "Like" their brand to follow their news and third thinking that consumers are looking for incentives or rewards.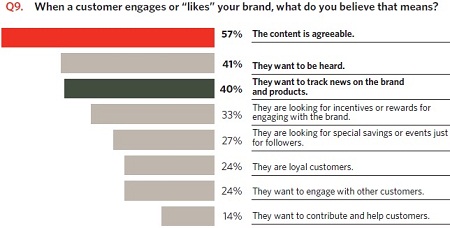 How Marketers Responds To "Like"?
Most marketers are engaging with customers furthermore when they "Like" them- 31% engage the conversation more deeply with the customer, 30% creates more discussions and 22% promoting their exclusive offers to fans. There are still a considerable portion of 21% that don't know how to respond to "Like".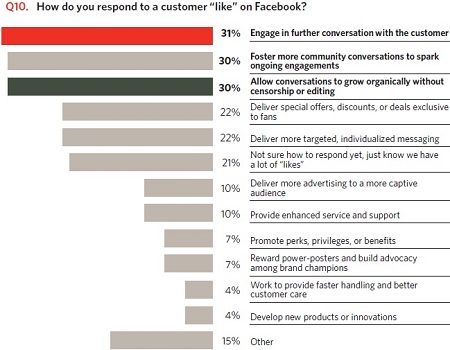 Why Consumers Connect With Brands On The Social Media?
The big majority (65%) of consumers connects with brands for games, contests and promotions. 55% connects to learn more about new products, 38% connects just to be fans, 32% wants to comment positively on the brand, 27% because they love the brand campaigns and 25% want to connect with other fans of the brand.
Why Consumers "Like" Brands?
49% of consumers who are "Liking" a brand because they consider themselves as loyal customers, 46% wants to follow the brand's news and products and because they see it as a way to receive incentives or rewards. Only 30% "Liking" a brand because they agree with its contents.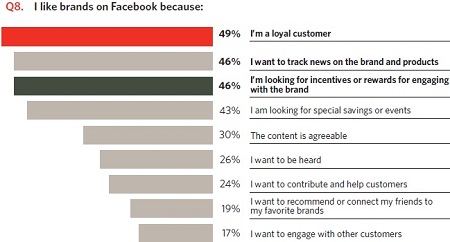 What Consumers Expect After "Liking" a Brand?
67% of consumers expect to receive exclusive deal offers, 60% expect interaction and sharing experience with other customers and 57% expect to find unique experiences. 25% of customers who are "Liking" a brand don't expect anything.