It is always interesting to find out who are the major online advertising spenders and how much they spend every year. A new report composed by Kantar Media and published in AdAge might answer these questions- It examined who were the biggest Google AdWords ad spenders from January to September this year.
Analyzing the online advertising spending in Google AdWords is a very a complicated mission- It supposed to be based on each keyword estimated volume and competition at different periods of time and on other ad-score variables. Therefore Kantar Media should receive all compliments for managing to achieve what seems very accurate estimation.
Now for the report itself- It contains a list of the top 20 Google AdWords spenders which (not surprisingly) are also some of the biggest companies in the world. The list is pretty varied and represent brands from multiple industries such as financial, technological, travel and communication.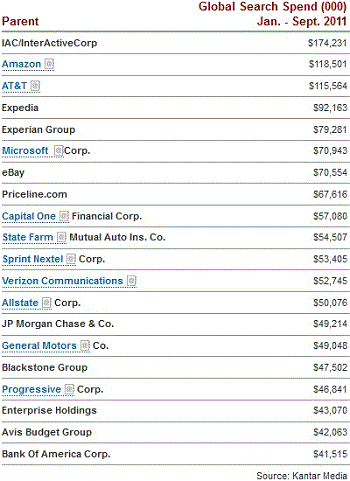 At the top of the list you can find IAC, which holds Ask.com, Match.com, Dictionary.com, Vimeo and more, with AdWords spending of more than $174 million, close to 50% more than the second in line, Amazon that has spent $118.5 (mostly on its online store). Not so far behind stands AT&T with slightly more than $115.5 million closing the top 3.
The online travel agency, Expedia, is apparently also a big spender after got to the fourth esteemed place with more than $92 million AdWords spending. Experian Group, the first financial-oriented company on the list, came fifth with a little above $79 million in Google search spend.
You might be surprised to find in the sixth place, Google's big rival, Microsoft, that contributed close to $71 million to Bing's (owned by Microsoft) bitter competitor. It can only reflect the high recognition Google is receiving as the major online advertising platform on the web.