Yesterday i discussed about the tremendous growth of online videos viewers and that in 2011 more than half of the US population have watched online videos. Now, another report is indicating that not only online video views have increased rapidly, but also online video ads.
The recent report came from the media advertising service provider, Free Wheel, and has been examining the video advertising state on the third quarter of 2011. Its drew the data from the more than 7 billion video ads it served over the last quarter.
Big Growth In Video Views, Bigger Growth In Video Ad Views
The total online video views have almost tripled since the beginning of 2010- In the first quarter of 2010, there were little less than 4 billion online video views and by the third quarter of 2011 it jumped to 11.8 billion views. It also reflects an almost two times more online video views in a year.
However, online video ads have shown even a bigger increase- Since the first quarter of 2010 the amount of video ads served has increased by over 4 times more to 7.2 billion ad views. At a year's time (since the third quarter of 2010), it reflects a 128% jump!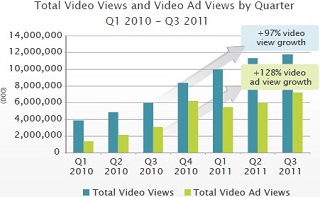 More Video Ads Per Video
The faster increase of online video ads over online video views is driven due to a jump in the average ads served per video, mostly on videos longer than 20 minutes (long-form). Over the last year, the number of ads for long-form videos have jumped from 3.1 to 5.02 ads per video online averagely, 62% rising.
Ads in online videos of 5-20 minutes length (mid-form) have also shown a significant jump in the past year, from 0.75 ads per video to 1.02 per video on average, 36% increase. Online videos less than 5 minutes length (short-form) have shown all over the past year the same ads per video rate (more or less).