Yandex, the leading search engine in eastern Europe, is making an effort to take the Russian mobile search premier from Google- It is trying to expand its mobile reach by partnering with few major companies to become the default search engine on the companies mobile devices in Russia.
In a press release, Yandex has announced yesterday it will become the default search engine in Windows-based mobile phone devices of Nokia, HTC, Microsoft and Samsung after the companies have reached an agreement. Some of the Yandex-default smartphones are already being sold and many others will be released soon.
Yandex Leading In Russia But Lacks In Mobile Search
Yandex is one of the only search engines that holds more market share than Google in certain parts of the world. While Google has 80%-90% of the worldwide search engine market share, in eastern Europe Yandex is the leading search engine with about 60%. Here's the search engine market share in Russia from January 2010 to May 2011 according to comScore: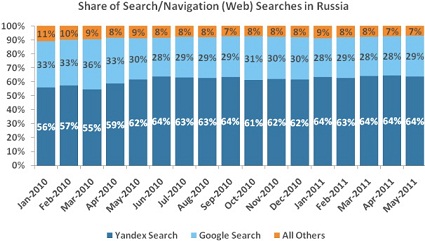 You can see that in this period of time, Yandex only gained market share on the expense of Google- While in January 2010 Yandex had 56% and Google had 33%, in May 2011 Yandex advanced to 64% and Google fallen to 29%. However, the picture in the mobile search industry is very different- Google holds in Russia close to 60% of the mobile search market share while Yandex holds only about 40% (according to StatCounter):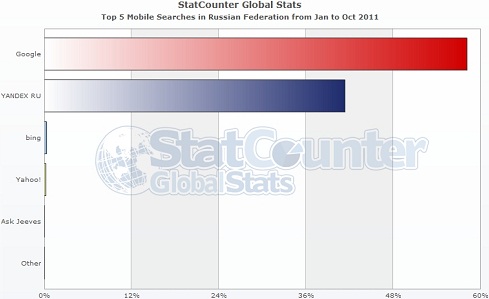 There is no doubt that Yandex strategic partnering move in Russia will reinforce its strength in the mobile industry and will help the company to gain market share. Is it going to be enough to become the leading Russian mobile search engine as well? The Russians already proved to like Yandex more, so it just might…
Yandex also operates in Ukraine, Kazakhstan, Belarus and recently in Turkey also, so we might see this deal expanding into these areas in the near future. Another interesting point to think about is that Microsoft basically gave up competing in the Russian mobile search arena with Bing. Is it a hint for the future to come?