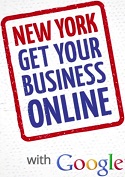 If you are a business owner from New York, Google may have a great offer for you- Get a domain name, web hosting service provider, local business listing in Google places, tools and resources free of any charge for one year! Interested? The offer is available in New York Get Your Business Online.
The Offer Specifications
Only local New York business owners are eligible for the offer (after proving they really own a New York local business). The main partner of Google on the program is Intuit, a small business service provider that provides the hosting and the site builder among other things. The free online business offer includes:
Domain name for one year.
Web hosting for one year.
Local business listing in Google Places.
$75 credit in Google AdWords.
Web tools and resources (site builder).
One website for one business. Person with several businesses can receive one free website for each business.
As stated this is a one-year offer and to keep running the website after, it will cost $7 per month ($2 domain + $5 hosting). Also, websites can be built only with Intuit SiteBuilder (drag and drop program) and with no other program.
Is There a Catch?
Google are stating that they want to help growing the economy- There are 27.5 million small businesses which responsible for 50% of the whole U.S. GDP and for 66% of the American employment. Additionally, 97% of American consumers are searching online for products and services and only 48% of small businesses in New York have a "face" online (website).
While there isn't any obvious catch, Google is encouraging the eligible small business owners to use Google AdWords to advertise (with $75 free credit incentive) and to use Google AdSense for advertising. Therefore, when providing free $100 (more or less) website yearly service (domain+hosting) it is actually much lesser or even eventual profit. At any case, we shouldn't be ungrateful because in the end, Google still subsidizing free website.
You can watch this short video of New York Get Your Business Online for more information: