Apparently, Google is experimenting with some new interesting feature in its search engine called "Sources". The "Sources" feature opens up on the right side of the screen and provides more details about the search query. Here's a screenshot capturing the experiment: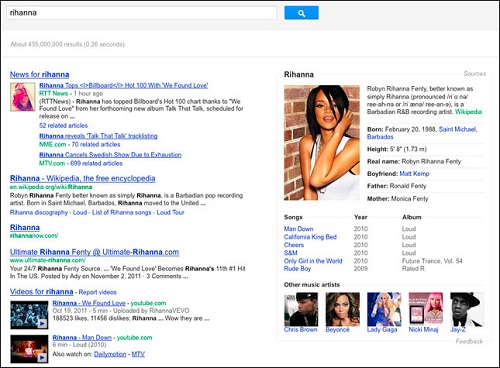 As seen in the screenshot, after searching for the query "Rihanna", in addition to the regular search results on the left side, on the right side of the screen the "Sources" feature appears showing more details about the singer (Wikipedia, bio and life details, songs and suggestions for other artists).
There are also more reports from others, who discovers the "Sources" with additional details like company's address, employees, languages, photos and more. It looks like that the information is similar to what the Related Toolbar (that launched by Google in August) is presenting.
Offering Details From Reliable Online Sources
It seems the Google are testing with a feature that offering the user expanded information whenever he/she is searching for a known brand/people/organization/whatever. Google representative has vaguely confirmed the experiment to Search Engine Land by saying the usual "we are always trying new things".
The "Sources" feature can explain why Google also added ads at the bottom of the SERPs as "Sources" occupied the right page side. The main beneficiaries (besides the users of course) from the new feature if it will stick, are highly reliable online sources like Wikipedia or niche authorized sites (IMDB for example) that will receive more exposure than before.