The video ad network, BrightRoll, has released its US Publisher report for 2011 which conducted to provide insights about the online video advertising industry. The research has polled 100+ professional premium publishers that answered varied of video advertising questions. Here are the report's key findings:
Most Important Factors To Work With Video Ad Network
The most important (and not surprising) factor to work with video ad network(s) is to increase the revenue (55% of the respondents). More popular factors, however far behind, are to increase the fill rate (21%) and to sell "leftover" inventory (16%). Only 2% of the professional publishers don't work with video ad network.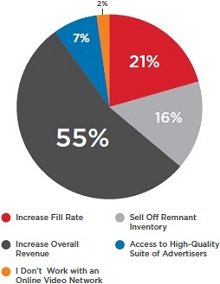 Barriers To Online Online or Mobile Video Ad Growth
The biggest barriers for online or mobile video ad growth are related to technical difficulties- Standardization (42% for online, 43% for mobile), Technical integration (31% for online, 47% for mobile) and integration with 3rd parties (26% for online, 22% for mobile). Another significant barrier to video ads is because its interrupting to the user experience (39% for online, 27% for mobile).
Highest Revenue Generator Next Year Prediction
Interestingly enough, most publishers (63%) believes that in stream video (such as pre-roll and mid-roll ad units) will generate the highest revenue in 2012 and another 9% believes it will be in-banner video. This is a very optimistic view about video ads industry that will become the dominant source of income.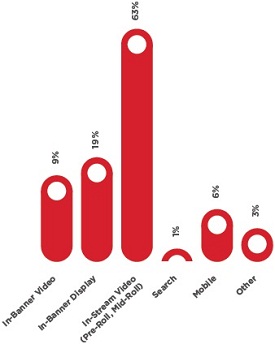 Conclusion
Even though video ads still produce many technical difficulties for all platforms (PC and mobile) and even bother the user experience in a way, it seems that publishers believes it will be the highest source of revenue in the near future.