New interesting research by Chief Marketer has been published recently, where it discuss and analyze how social marketing entered the main core of online businesses campaigns. The research has polled 750 active professional marketers from different industry sectors in August. Here are its main findings:
Social Marketing Active
Almost three-quarters of the respondents (73%) are social marketing active in 2011, up from 64% in 2010. Another 15% are planning to integrate social in the upcoming year, reasonable and logical decrease from 22% last year. Only 8% don't recognize social as an effective marketing method and don't plan to use it next year (down from 10% last year).
Reasons To Go Social
The participants have listed "reach customers at multiple touch points" as the prime reason to go social (85%). It seems that marketers knows that risk of being solely dependent on one marketing channel and looks for diversity. Other main reasons are because of the customers behavior- "Customers spending more time on social networks" (60%), "Customers expect social presence" (46%) and even "segment customers using information from social media" (19%). Here's the full list: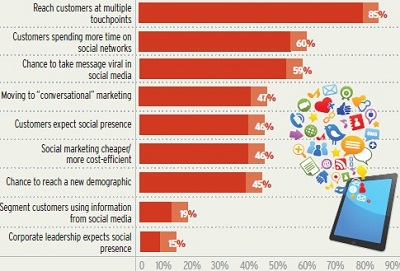 Social Marketing Channels (Networks)
Like in any other survey or research, Facebook is the leading network for social marketing (91%). Twitter is second (77%), LinkedIn third (68%) and YouTube is fourth (61%). Far, far behind are location-based social networks like Foursquare and Gowalla (15%).
Social Marketing Goals
The main goal of social marketing is simply to "drive traffic to website" (66%). On the contrary, the second main goal is to "generate leads or sales" directly from the social channel (48%). Another prime reason is to "identify and address brand fans" (47%).
Traffic From The Social Media
There's an increasing amount of traffic from the social media into websites. About 14.7% in average of site's traffic comes from social channels in 2011, more than double from 2010 where it was 6.7%. Although it is still far from search engines traffic, it has become significant in terms of visitors.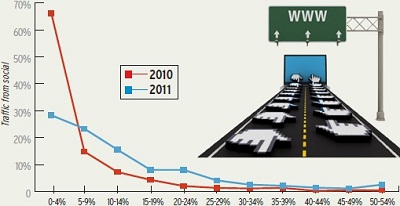 Social Marketing Tactics
When the participants been asked to describe their social marketing tactics they listed many different varied ones to engage with the users (19 in total). The main tactic is social plugins– "Social share buttons in email or on website" (69%) and "like buttons on brand website or social pages" (58%). Another considerable tactic is to create unique content especially for the social media (59%).
Social Marketing Is Problematic To Measure
Only 13% of the marketers are stating that they are measuring their campaigns very effectively. About 40% stated that they are not measuring it very effectively by the least and 47% stated that they just somewhat effective in measuring. Most marketers are measuring by simply counting the number of friends, followers and likes (60%) or by the number of sharing, forwarding and Retweeting (39%).
Social Marketing Budget
Even with all the difficulties of measuring, most of the respondent's social marketing budget has increased (45%) or stayed the same (36%). Only 1% of the respondents have decreased their social marketing budget.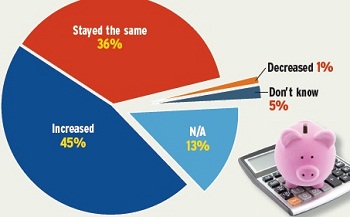 Final Thought
This research is reinforcing the findings from other recent studies (like Companies Use The Social Media More) and emphasizing the importance of using social channels when working from home. Every marketer should integrate at least some social marketing efforts as it become also a growing considerable traffic resource.