Many home business owners use social networks for marketing and branding purposes, however, there are much more utilization of the social media while working at home. A recent article post at eMarketer has been investigated this issue using couple of studies from reliable online sources.
How Engaging And Listening In The Social Media Can Help The Most?
The first study i want to discuss, conducted by Forrester among 200 marketers and examined how reacting to social media user postings can help businesses. The participants rated the areas where social media engagement could help the most: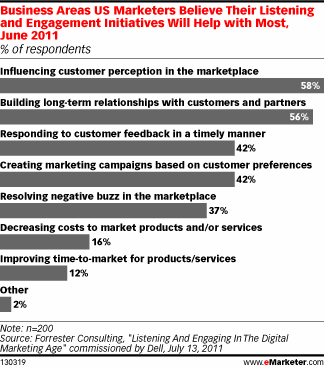 The highest rated areas are influencing the customer perception of the brand (58%) and building long-term relationships with the customers (56%). More high rated areas are responding in a timely manner to create positive brand effect (42%) and create better marketing campaigns to the customers (42%).
Twitter Users Expectations From Complaints Tweets
A study of Maritz Research among 1,298 Tweeter users examined how many users from different age groups are expecting brands to at least read their complaints on the social network. Here are the findings: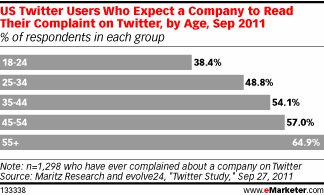 It is very clear that older people expecting more from brands on the social media- About 65% from the oldest age group of 55+ years of age are expecting from brands to at least read their complaint, while only about 38% of the youngest age group of 18-24 years of age expect that. Overall about half of the participants expecting the brand to at least read their complaint, which is pretty low.
Twitter Users Level Of Satisfaction About Complaints
From the ones who actually Tweeted a complaint (375 participants), the big majority (74.4%) are at least somewhat satisfied while only 15.7% are dissatisfied. It point out that in general, brands doing a pretty good job dealing with complaints on Twitter.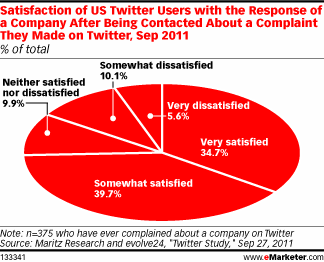 Conclusion
The social media could have (and should have) more roles than just trying to attract visitors or improve the site's SEO. It can be used for engaging with the users, improving the brand reputation and convert users to customers.