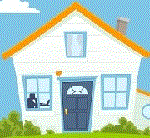 If you asked yourself how the work at home lifestyle has changed after the recession, a great new infographic based on a recent survey may offer you some answers… It also reveals some interesting telecommuting stats and provide productivity tips.
The survey was conducted by CareerBuilder (one of the biggest employment resources online) among 2,654 hiring managers between May-June 2011. Let's go over its main findings (infographic at the bottom):
U.S. Home Based Workers
In 2011, 10% of the Americans are working from home at least once a week, compared to 8% in 2007. 6% of the Americans works from home full time today, compared to 4% in 2007.
Typical Work Day
Today, telecommuters work much more than in 2007: 35% works 8+ hours a day while in 2007 only 18% worked as much. Today, only 25% works up to 4 hours a day, while in 2007 it was 39%. That said, it is still lower than all workers- 48% of the total workforce works 8+ hours.
More Productive: Home VS Office
Surprisingly enough, 37% of home based workers believes that they are more productive at office where only 29% believe they are more productive at home. 34% believes they are equally productive.
Biggest Distractions
31% of the people who work at home are saying that the household chores are their biggest distraction. 26% answered its the TV, 23% pointed on their pets, 19% said its errands, 18% responded it is the internet and 15% are distracted by their children.
Pajamas Or Not Pajamas
30% of telecommuters work in their pajamas. If we divide it into gender we will see that females tend to work in pajamas much more than males- 41% to 22%.
Tips For Productivity:
Keeping a regular normal routine.
Finding the best place in home to work in.
Staying connected to friends or colleagues.
Scheduling breaks.
Taking the work outside sometimes.
Here's the infographic with full details: