If mobile sites and/or apps are at least part of your online business, Google is now offering you a new monetizing opportunity- Search ads for mobile websites and apps. Google announced that it is now providing app developers (or anyone else that runs an app for that matter) and mobile website owners another making money possibility.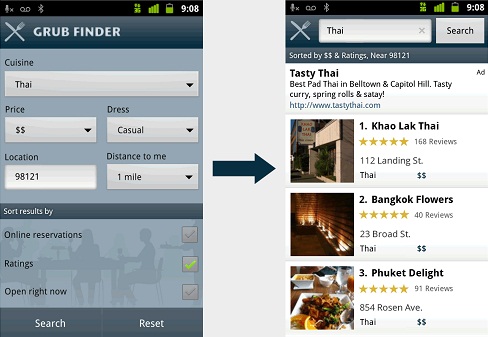 The main idea behind this product is that almost all mobile websites and apps have search functionality of some sort to browse through them or through the web. With the integration of Custom Search Ads for Mobile in the site/app, in addition to the organic search results, ads will also appear at the bottom or upper side of the screen (as in the photo above).
The ads could be customized to fit the overall design of the app/site by font, background, colors and placement. This way, the ad will integrate as a natural part of the site/app without interrupting and the user experience will stay intact.
The Custom Search Ads for Mobile is part of Google AdSense, therefore it has the familiar automatic mechanism of providing relevant ads. The implementation is pretty easy: Mobile site owners needs to copy a simple HTML code and app developers can add it using the software development kit (SDK) of the program.
If you have a mobile site or app, you should highly consider using this kind of monetizing feature as the mobile ad spending keep increasing every year. You can apply to the program in this AdSense Custom Search Ads For Mobile page.