The social gaming company, CrowdStar, revealed in the last week new strategy for expansion and to be less dependent on Facebook. The company is calling this strategy "Project Trident" and its a 3-way multiple platforms spreading plan.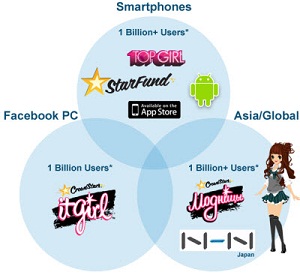 Project Trident
1.  Mobile
The company already launched the game Top Girl to iOS and Android mobile platforms and so far it proved to be a success- 4 million downloads in four months. The company is planning to release more games for mobile as half of its yearly revenue expected to come from mobile platforms.
2.  Asia
CrowdStar has partnered with the Korean gaming company NHN with the purpose of entering Korea, Japan and China. Additionally, CrowdStar planning to launch more of its games in five different popular Asian social networks to reach for the estimated billion gamers in Asia.
3.  Facebook
The company isn't abandoning Facebook and quite frankly can't afford doing so. After all, CrowdStar is a social games maker and Facebook as the most popular social network among its 800+ million users, therefore it will probably remain its largest market.
Social Gaming Is On The Rise
Just couple of days ago i reported that social gaming companies revenue is growing every year by big double digits, so it shouldn't surprise anybody that these companies have plans and strategies of expansion beyond Facebook to go on their own independent path.
CrowdStar isn't the first of doing it, Zynga already announced a while back on a plan to start its own social network called Project Z. This plan by Zynga and Project Trident by CrowdStar are simply the natural consequences of successful businesses strategy to move up ahead.
CrowdStar Opportunities and Jobs
Lastly, i want to leave you with some of CrowdStar developer opportunities and employment:
Game Developers Fund- CrowdStar is offering up to $250,000 fund for game developers. You can apply for it by filling the form in the StarFund page.
Jobs At CrowdStar- The company is currently hiring and offers great conditions and benefits. Find information about it in CrowdStar Jobs.