The internet security company, Commtouch, has released this weeks The State of Hacked Accounts report which covers compromising and hacking to users account such as Hotmail, Yahoo, Gmail and Facebook.
The report is showing a concerning picture of hacking into Hotmail and Gmail which suffered from an increase in compromised accounts. However, the largest amount of accounts hacked are still in Yahoo mail (27%) and Facebook (23%).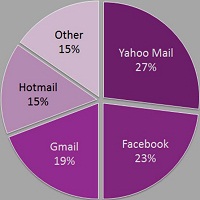 Most people (62%) that their account was hacked, don't know how it happened, 15% fell into some Facebook fraud or scam, 15% of users account have been hacked after the users used public WiFi and 4% were attacked by Virus.
Another interesting findings from the report were that 54% from the users with hacked account believes (or knows) that their account has been used for spamming. 12% of the hacked accounts used for asking money from the user's friends and 8% for Facebook posting.
Only 31% of the users have noticed their hacked account themselves while 54% learned about it from their friends. 15% of the account owners have learned about it when they received an official email from the company (Gmail, Hotmail, Yahoo or Facebook) suggesting they would change their password.
How To Avoid Being Compromised?
It is safe to assume that people who work from home are more exposed to internet scams because of the work nature. Therefore, i suggest listening and embrace the Commtouch recommendations:
Difficult to guess passwords.
Different passwords for different websites.
Thinking carefully if using a public WiFi and if so, always uncheck the "remember me" box and log out when done.
Never open attachments or click on links from unknown sources.
Never respond to an email asking for password recovery.
More from the report can be found in this presentation: