When Google+ got opened for all users almost a month ago, it also presented a new improved search engine for all the public social network content. This week, Google made another improvement for it- Real time search. In addition, search Hashtags have been added for better support.
Google's engineering senior vice president, Vic Gundotra, has announced on these changes in his Google+ profile and added that they will "make search in Google+ more interactive". let's review them:
Real Time Search
Google+ was (and still is) the only social network that offers a real high-class search engine. Now it is being improved with results in real time- After the user will search for a query and receive results, he could keep the results constantly updated in real time by clicking on the "more recent post" link (see the photo below).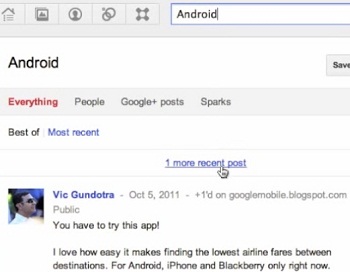 Search Hashtags
To give the users better search and browsing experience, Hashtags have been added. With these tags, the user can mark certain words when he is posting updates and they will be posted as links to the search for those specific words. To mark a word as a Hashtag, all the user has to do is to type # before it. Here's an example of a Hashtag:

Final Thought
Google is taking advantage its huge experience and knowledge in search and implementing it in Google+. At least in this field Google+ opens a big gap from Facebook, that still doesn't offer a proper search engine.
For more information and to see in action real time search and Hashtags, watch this video: