Since Facebook has updated its News Feed last month, many marketers and other people who work at home have debated and questioned how it will effect their social marketing efforts and results on Facebook. A new study from EdgeRank Checker may answer some of those questions.
EdgeRank has examined and compared more than 3,500 pages in two different two-weeks periods: 9/3–9/17 (Before the new News Feed) and 9/24–10/8 (After the new News Feed). Every day was averaged separately by impressions, "Likes" and comments and was compared to the parallel days from the other period, to examine the new News Feed effects
Here is the two periods data differences summarize in terms of impressions, "Likes" and comments: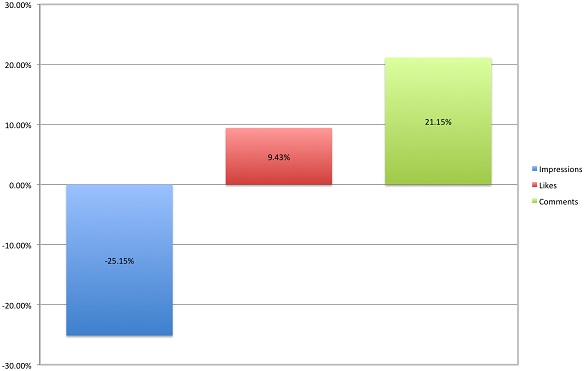 Since the new News Feed has took in effect, the study has found these changes had occur:
–  Impressions (of posts) dropped by more than 25%.
–  "Likes" went up by more than 9%.
–  Comments went up by more than 21%.
Allegedly, there is some data contradiction- While people see less posts, they are more engaged with the posts… Is it really contradicting?
Conclusions and Implications
According to the findings of the study i can conclude this- Apparently, Facebook succeeded with its goal to increase the users engagement. It looks like the users are now getting less posts in general however much more targeted ones in their News Feed, so they are interacting with them more than before, without being overwhelmed from their amount.
Actually, i believe that the new News Feed improved the social networking user experience of Facebook pretty significantly- Instead of seeing all posts in chronological order, the users are now seeing the posts that are more engaged by their friends, which they will probably find as more interesting.
This is reinforcing my prior thoughts on marketing on the social media while you work from home- We have to make an effort posting interesting and engaging contents, even if it comes on the expense of less posts in general.