The marketing performance company, Efficient Frontier, has released the Digital Marketing Performance report for Q3 2011. The report covers mostly online paid marketing trends from the search industry and found that Google reinforced its dominance, however, the Bing-Yahoo alliance presents better ROI performances.
Google Controls Paid Search
In Q3 Google had strengthen its control on the paid search industry by rising to 81.9% spend share (from 80.6%) and to 82.5% in the click share (from 81%), on the expense of the Bing-Yahoo alliance that withdrawn to 18.1% spend share (from 19.4%) and to 17.4% click share (from 19%).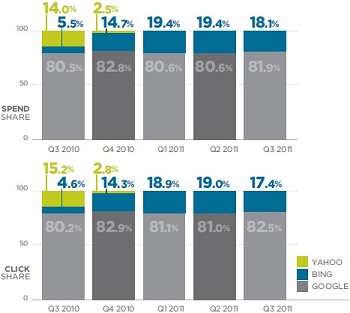 We can see that the overall paid search trend remained the same over the last 5 quarters as Google keep holding 80%-83% of the total share and so far the Bing-Yahoo alliance didn't succeed to harm its dominance.
Bing-Yahoo Alliance Leads in ROI
Although Google rules the paid search, the Bing-Yahoo alliance perform better in terms of return on investment (ROI)- It has a 11% advantage over Google. The downside of Bing-Yahoo is that it still doesn't brings enough traffic (As Google takes all market share). It will be interesting to discover if Bing-Yahoo can keep the high ROI with more volume.

This is the fourth straight quarter that Bing-Yahoo perform better than Google since the third quarter of 2010 when Google performed better the last time.
More Insights:
–  The paid search spending have increased in a year by 20% in the US and by 16% in the UK.
–  Facebook ad spending have increased by 25% within a quarter.
–  Mobile search spending forecast to reach 7%-10% of all paid search by the end of next quarter.