Earlier today, i reported that Google Offers added personalized user deals option and now, its ultimate nemesis, Microsoft, is also throwing a new product to this already boiled daily deals industry- Bing Daily Deals.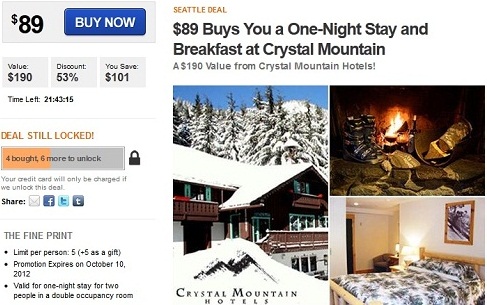 But wait, Doesn't Bing already has deals service (Bing Deals in its shopping service)? I guess that Microsoft didn't settle with just a deals aggregator portal and now it is launching a traditional daily deals service.
This new service is currently powered or semi-powered (still unclear) by another deals provider, Tippr, and it is available at this point in 12 cities across the US, but it will surely expand to more locations soon enough.
In order to sign up to Bing Daily Deals email service, the user needs to be logged in to his Windows Live or Facebook account. I'm assuming that the purpose is to personalize the deals, in a similar effort to the one Google Offers has made.
There are still many questions surrounding this deals service as Microsoft yet to officially launch it: Does it gather the deals solely from Tippr? Is it going to use Windows Live or Facebook profile to personalize the deals especially for the user? And how it will be integrated in Bing Shopping?
One thing is for sure- A new strong player with solid financial back behind him has joined and we will have to wait and see how it will fit-in in one of the most competitive online industries on the web.