Although there were some voices that already eulogized the daily deals industry, the facts proves very much differently: According to a report by the daily deals tracking site, Yipit, the revenue of the whole daily deals industry in North America has grown by 12%, while all of the major players have experienced revenue increase.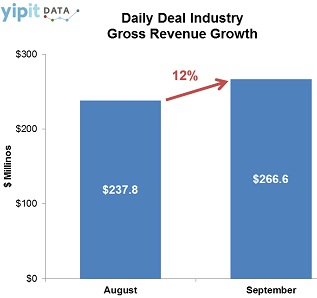 The total daily deals industry revenue has grown from $237.8 million in August to $266.6 million in September, representing a 12% increase. This is even a bigger monthly revenue jump from the increase of 9% between July and August.
The Groupon-LivingSocial Battle
After last month it was Groupon that gained the upper hand when its revenue has increased on the expense of LivingSocial, in September the winner was LivingSocial, but not because Groupon's revenue had fallen: The two most popular daily deals sites have managed to increase their profits, however, LivingSocial earnings grew more than five times faster than Groupon's earnings.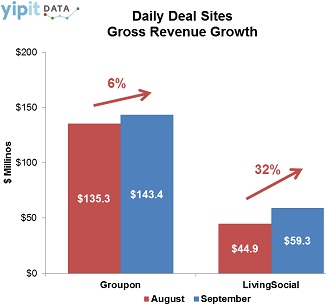 While Groupon's revenue climb by 6% from $135.3 million to $143.4 million in September, LivingSocial's Revenue has grown by 32% from $44.9 million to $59.3 million. However, Groupon can still feel comfortable and secure at the first place with 2.4 times more revenue than LivingSocial (although the gap has narrowed from 3 times more in August).
The Daily Deals Race
Even though these two makes together 76% of the whole industry's revenue, the other daily deals sites have shown faster revenue growing rates- Travelzoo's revenue increased by 37%, AmazonLocal's revenue has grown by 177% and Google Offers lived up to the promises of doubling its earnings in September with a monstrous revenue growing rate of 236%!
The competition of the daily deals sites become more and more interesting (and profitable) while drawing many online businesses to use these kind of services. My personal opinion is that we will eventually see a trio-race of Groupon, LivingSocial and Google Offers, where other deal services like Bing Deals will also benefit from it.