In the social media and marketing study i reviewed earlier today, it has been showed that companies are spending an increasing amount of resources on social media marketing. But to market efficiently in the social media its not just about the amount of resources invested, it is also about understanding the users expectations.
A report by eMarketer, examined this point exactly- The exceptions of Facebook users after "Liking" a company and the reasons why Facebook users won't "Like" companies. Comprehending this things can make our social marketing efforts much more effective and productive.
Expectations Of Facebook Users After "Liking" a Company
58% of Facebook users are mostly expecting to gain access to new exclusive content and/or to receive special discounts and promotions. It means that they see the "Like" as a two-way street, They give the "Like" and expect a return.
Lesser users don't want anything special in return: Receiving company's updates (47%), sharing with their friends (38%) or not expecting anything to happen (37%). There are users that "Liking" a company just for the reason it will show up on their profile (37%). Here's the full list of expectations: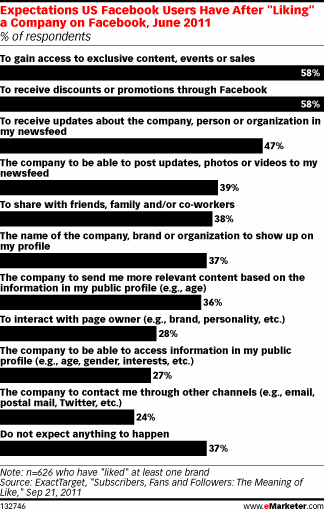 Reasons Why Facebook Users Won't "Like" Companies
The most common reason why people won't "Like" a company is because they don't want to be bombarded with posts (54%). I already discussed it in the past as a major reason people unsubscribe from brand pages, so remember that users do not appreciate too many postings.
There is also a considerable percentage of people that don't want to bother their friends- 31% don't want to push things to their friends News Feed and 19% don't want to impose their views or interest on their friends. That sets the bar of creating highly interesting and engaging contents much higher. Here's the full list of why users won't "Like" a company: