Steve Jobs, that just resigned as Apple's CEO a month ago, has died from cancer at age 56. Steve was one of the greatest technological minds and visionaries of our times and he is one of the most significant people that shaped the world over the last couple of decades.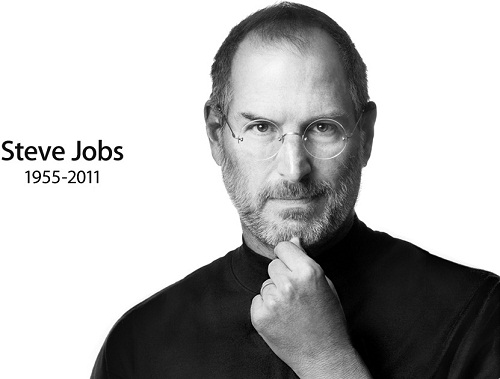 Since 2004, when he diagnosed from a rare case of cancer, he struggled with it while still managing to serve as CEO and making Apple the biggest company in the world. He was forced to take several vacations over the years for treatments, until a month ago he announced that he resigns completely as CEO.
Steve Jobs family released the following statement:
"Steve died peacefully today surrounded by his family.
In his public life, Steve was known as a visionary; in his private life, he cherished his family. We are thankful to the many people who have shared their wishes and prayers during the last year of Steve's illness; a website will be provided for those who wish to offer tributes and memories.
We are grateful for the support and kindness of those who share our feelings for Steve. We know many of you will mourn with us, and we ask that you respect our privacy during our time of grief."
President Obama released this statement:
"Michelle and I are saddened to learn of the passing of Steve Jobs. Steve was among the greatest of American innovators – brave enough to think differently, bold enough to believe he could change the world, and talented enough to do it."
On Apple's homepage there is a big black and white photo of Steve Jobs and its linking to an announcement that says: "Apple has lost a visionary and creative genius, and the world has lost an amazing human being…"
One of Steve's old professionals rivals, Bill Gates, says:
"Melinda and I extend our sincere condolences to Steve Jobs' family & friends. The world rarely sees someone who made such a profound impact.For those of us lucky enough to get to work with Steve, it's been an insanely great honor. I will miss Steve immensely"
Facebook's founder, Mark Zuckerberg, has posted: "Steve, thank you for being a mentor and a friend. Thanks for showing that what you build can change the world. I will miss you."
Google's CEO, Larry Page, has posted: "I am very, very sad to hear the news about Steve. He was a great man with incredible achievements and amazing brilliance. He always seemed to be able to say in very few words what you actually should have been thinking before you thought it."
We here in WorkingHomeGuide.com want to thank Steve for all his years teaching us the impossible can be very much possible, you were a role model of entrepreneurship and the world will miss you tremendously. Rest in peace.
Video: Steve Jobs famous speech at Stanford University in 2005