Few months ago, back in June, Google has announced a pilot program for limited amount of webmasters to merge data from Webmaster Tools into Google Analytics. After testing and improving it using the feedback from the selected webmasters, Google announced that this option is now open for everyone!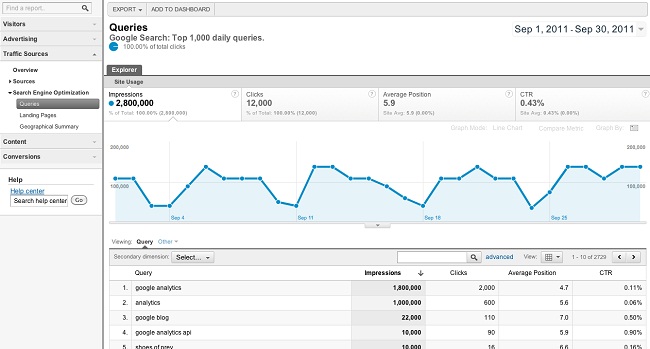 A new section called Search Engine Optimization will be added to Google Analytics where the webmaster could understand better how his site is performing on the search engine, based on data from his Webmaster Tools account. You can find it under the Traffic Sources section in the new interface of Google Analytics and it presents 3 reports:
Queries- What are the top 1000 search queries of the site, how much impressions and clicks it has, what his its average position and CTR.
Landing Pages- What are the top 1000 landing pages of the site, how much impressions and click they have, their average position and CTR.
Geographical Summary- From which country the site is receiving impressions, clicks and CTR.
How To Enable The Merger?
In your Google Analytics account (the new version) enter one of the 3 reports of the Search Engine Optimization section. Then, click on the Set up Webmaster Tools data sharing button and in the Webmaster Tools Settings section click on the Edit link to choose which website to combine data with. That's it!
Work From Home Thoughts
Finally, the two most important tools of analyzing and measuring the online business performances are integrating together and showing on one platform all the necessary site's analysis information. The more details you have on your website, the better you would know where you stand and how to improve it.
I am waiting for the day that all the information from the two programs would be integrated in one platform, so it will be easier and convenient to browse through our data.