Last week i reported that there is a big increase in mobile sites since the beginning of the year, but not many of them are publishing mobile ads. Well, a recent eMarketer report may encourage online business owners both to build a mobile version for their site and also to publish mobile ads…
The report predicts that mobile advertising will grow fast in double digits gradually in the next few years until it will reach $4.4 billion in 2015. Just this year advertisers will spend $1.2 billion on mobile ads, which represent a 65% increase from 2010!
Here is the mobile ad spending in 2010-2015 forecast: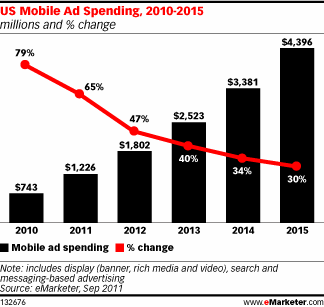 2011- $1.2 billion (65% increase)
2012- $1.8 billion (47% increase)
2013- $2.5 billion (40% increase)
2014- $3.4 billion (34% increase)
2011- $4.4 billion (30% increase)
Note: The spending includes display ads, search ads and messaging-based ads for both mobile phones and tablets.
Mobile Ad Spending Market Share By Format
The report also elaborates how the mobile ad formats are divided today and forecast how they will be divided by 2015. While in 2011 messaging-based ads have the biggest share (36%), in 2015 they predicted to shrink by 60% into 14% market share. The big winners are search ads that will gain the biggest market share by 2015 (40%) which represent a 41% grow in share.
Video ads will also have a significant market share growth rate of 91% between 2011-2015, but they will still remain with the smallest market share (9%).