In the last decade, the internet users population in Latin America has grown tremendously. Along with it, social networking had also grown in massive proportions, maybe in a higher rate than any other region in the world.
Social Networking Growth In Latin America
As for June 2011, 114.5 million people have visited social networking sites in Latin America, this represent 96% reach of all internet users in this part of the world! This is a 16% increase from last year and it may stop only if it will get to 100% reach…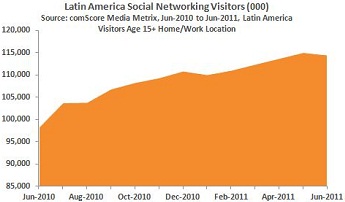 Latin America Social Users Are Highly Engaged
The social networking success in Latin America not only reflects in terms of population but also in terms of engagement- 5 out of the top 10 global markets by average hours spent per visitor on social networks, are Latin America countries: Argentina (3), Chile (5), Colombia (7), Venezuela (8) and Mexico (10).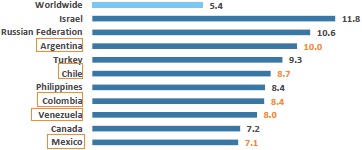 Top Social Networks In Latin America
The leading social network in Latin America is Facebook with more than 91 million visitors in June 2011, 52% (!) increase compared to June 2010. The second most popular traditional social network (I don't count Windows Live as one) and with only about third of the monthly visitors of Facebook, is surprisingly Google's old social network Orkut… Twitter had the highest growth rate in a year (59%) and its now very close to catch up with Orkut.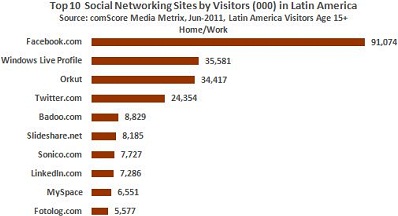 Orkut Is Popular But Only Thanks To Brazil
Brazil is one of the few countries in the world that Facebook isn't the most popular social network. Additionally, Brazil is the only country in the world that Orkut is the most popular one (or popular at all)- It had close to 36 million visitors in June while Facebook had 24 million visitors. However, Facebook can take over very soon- In one year it tripled its monthly visitors while Orkut only gained 20%.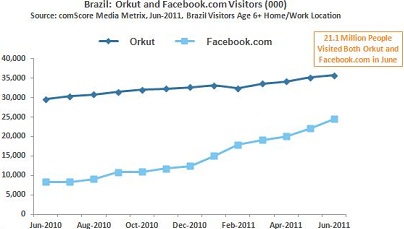 You can read more information about it in The Rise of Social Networking in Latin America report of comScore.