Does certain type of websites have been hit harder than others from the fierce Google Panda update? Search Engine Roundtable tried to answer that question through a poll they conducted since July and today they posted their findings: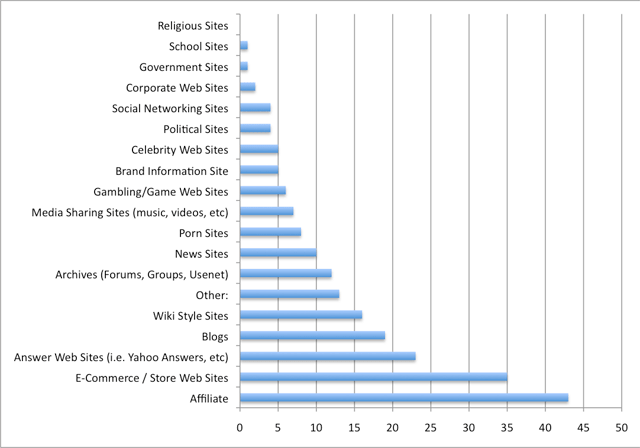 217 participants have voted in this poll, therefore we can't call it an accurate representative research, however we can't also decry this number, especially because this website considered as highly targeted for internet marketers so we can assume that a quality group of people that knows SEO gave their vote.
Winners And Losers:
As for the results, 43 participants (about 20%) gave their vote to affiliate sites, which gained the dubious respect to be the biggest type of websites that got hit from the Panda algorithm.
I don't find it surprising at all because there are many people who think they can earn quick cash with affiliate marketing without investing any real effort, which leads to shallow low quality sites, What was actually the Panda prime target…
The second in line were eCommerce/Store websites with 35 votes (about 16%). I guess that many these kind of websites also got hit hard because they provide very little textual unique content (mostly specifications and descriptions). If you have this kind of online business i suggest you to add some blog, reviews section or something similar to avoid being hit by the Panda.
At the winners side we can see mostly websites that being considered as providing quality content- Religious, school, government and corporate sites. Social networking sites also ranked well because content shared by people to people is highly engaging and relatively interesting.
Here are the full poll rankings, from the type of sites that got hit the hardest by the Panda to the least ones:
1.  Affiliate Sites – 19.82% (43 votes)
2.  eCommerce/Store Sites – 16.13% (35 votes)
3.  Answer Sites – 11.06% (24 votes)
4.  Blogs – 8.76% (19 votes)
5.  Wiki Style Sites – 7.83% (17 votes)
6.  Other and Archives (Forums, Groups, Usenet) – 5.99% (13 votes)
7.  News Sites – 4.61% (10 votes)
8.  Adult Sites – 3.69% (8 votes)
9.  Media Sharing Sites (Music, Videos, etc) – 3.23% (7 votes)
10.  Gambling/Game Sites – 2.76% (6 votes)
11.  Brand Information Sites and Celebrity Sites – 2.3% (5 votes)
12.  Political Sites and Social Networking Sites – 1.84% (4 votes)
13.  Corporate Sites – 0.92% (2 votes)
14.  Government Sites and School Sites – 0.46% (1 votes)
15.  Religious Sites – 0% (0 votes)