After the unofficial reports that Google+ gained many new users at the first days of being open for the general public, data from more reliable online sources is beginning to arrive. Recent post from Experian Hitwise indicates a rise of 1269% in visits to 15 million in a week to Google+.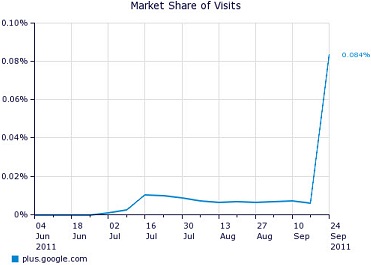 The total market share of Google+ visits in the week between September 17th to the week of September 24th (in all categories) went up to 0.084% from 0.007% or in numeric terms, 14.97 million visitors in that week.
Close To Enter The Top 10 Most Popular Websites List
Google+ is now very close to enter the top 10 most visited websites in the US and if it will keep the momentum and it will happen, 4 websites of Google could be at the top 10 list- Google.com (currently 2nd), YouTube (currently 3rd), Gmail (currently 8th) and Google+.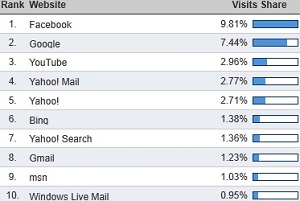 As for the category "social networking and forums" (by Experian Hitwise), Google+ is already in the top 10 most popular websites. It is now ranked number 8th, where in the week before, it was ranked 54th!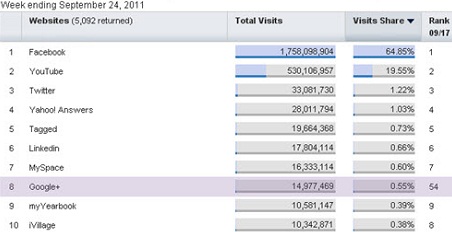 More Diverse Audience Composition
The post also break it down to Google+ audience composition of the last week and compare it to the prior one. While still a big share of Google+ visits came from "influencers" and "early adopters" groups, it is beginning to spread among wider social and economic groups.