While the mobile industry is growing in a tremendous pace and more internet users are using mobile devices, website owners don't stay indifferent- A new research has shown that almost quarter of the top 10,000 websites had a mobile version for their site. And how many of them are publishing mobile ads?
66% Increase In 9 Months
In January this year, 14.32% out of the top 10,000 websites (Alexa Rank) had a mobile version and in just 9 months this number has grown to 23.75%- A 66% increase in less than a year!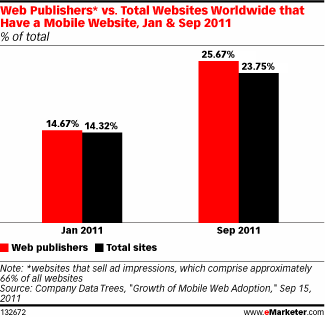 We can also see that websites that are selling ad impressions (web publishers), which are two thirds from all websites, have a higher mobile version growth rate of 75% – It went up from 14.67% in January to 25.67% in September. But do they also translate it into mobile earnings?
Only 61% Of Mobile Websites Display Mobile Ads
While web publishers are creating mobile versions of their websites, they still don't monetize them properly- 61.4% of web publishers don't display mobile ads yet and only 38.6% integrated them into their mobile sites.
In the research, it is described as "leaving revenue on the table" and i have to agree. Today, there are many excellent mobile ads networks like Google Mobile Ads that can increase the online business mobile version revenue easily.