comScore has released its monthly U.S. online video sites rankings for August- It appears that YouTube strengthening its grasp over the video industry while Microsoft, Yahoo and AOL sites are losing shares.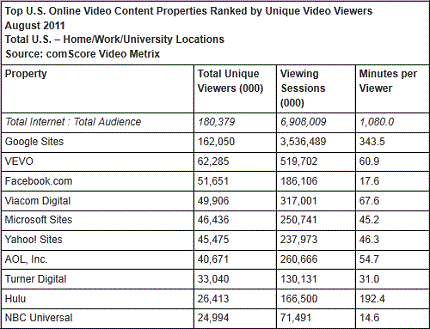 YouTube More Dominant Than Ever
Google's video site, YouTube, gained 2.5% compared to the last report of July– From 158K unique monthly visitors to 162K. It also reinforced its total reach in the U.S. online video viewers to 89.8% from 87.7% last month. At these times when 85.8% of all U.S. internet audience watched online videos, These Stats makes YouTube more popular and dominant than ever before.
Losers
Microsoft sites suffered from the biggest fall on the list with a 6.1% drop from last month. Also, AOL sites (-3.2%) and Yahoo sites (-1.8%) had a considerable drop.
Winners
NBC Universal had the biggest jump in unique monthly visitors with 14.5% growth in a month. Hulu (8.4%) and Turner Digital sites (10.1%) also had a big increase of monthly viewers. Viacom Digital sites had a notable rise of 5.5% and now it is ranked above Microsoft sites.
Most Engaging Online Video Sites
YouTube is also the most engaging online video site with 343.5 minutes per viewer. Hulu ranked second with 192.4 minutes per viewer. All others are more or less the same except of NBC Universal which had the least engagement level with 14.6 minutes per viewer.
Hulu Is The Top Streaming-Video Advertising Site
The report also ranked the top streaming-video advertising (part of the video) sites. This kind of advertising is more professional and therefore you won't find YouTube here because most of its advertising is through banner ads which weren't counted. Here is the full list: