Although that Bing is constantly gaining search engine market share and at the last count it stood on about 15% (without Yahoo), a recent article on CNN Money claims that Microsoft lose nearly $1 billion every quarter on its search engine!
Gaining Market Share, But Not From Google
When Bing was launched in June 2009, it intended to break the Google monopoly over the search engine industry. For that purpose, Bing established an alliance with the second market share search engine Yahoo which had at that time about 20% (June 2009 comScore report) to fight a unite battle against the common enemy. Here how the search engine market looked in June 2009: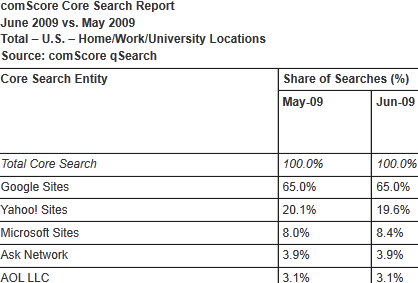 If we compare it to the search engine market share situation today (August 2011), we can see that Google's share remained almost unchanged (around 65%), while Bing was growing on the expense of Ask, AOL and its search partner Yahoo. Where in 2009 Microsoft and Yahoo stood together on 28%, today they stand together on 31%, so far not much of a growth…
Going On Its Own Unique Path
On the CNN Money article, online services president (the division that responsible for Bing and the losses) Qi Lu is mentioned saying that Bing "could not and would not try to out-Google Google" and that Bing must change the game completely. We can see this strategy implementing in various elements like the new Bing For Mobile features, Bing Action Buttons and of course the unique partnership with Facebook.
The big questions are if these aspects would be enough to draw users from the much more advanced search algorithm of Google and how longer Microsoft could suffer those earning losses? According to CNN Money analysts, Bing would have to reach 25%-30% market share for profitability, a very long journey from the current status. Although the technological world is highly volatile and changing rapidly, at the moment it doesn't seems likely to catch up…