YouTube is riding the editing wave it begun with the editing videos directly on YouTube option from last week and now introducing more editorial and creating video tools: Automatic 2D to 3D converter, removing the 15 minutes limit to verified users and partnering with two new video editing tools.
Auto 2D To 3D Converter
This is a very aspiring and interesting new (beta) feature- You upload a regular 2d video and by click of a button, you can convert it to 3d… Although even YouTube admits that the best results will be achieved when filming with an actual 3d camera, it is still a pretty great way to increase exposure to 3d audience.
To convert 2d to 3d, upload your 2d video and then enter the video page, click on "Edit Info", go to the "3D Video" tab and choose your preferred 3d broadcast method- Single image or 2 images (watch the photo below). Afterwards, your video will be also viewable in 3d.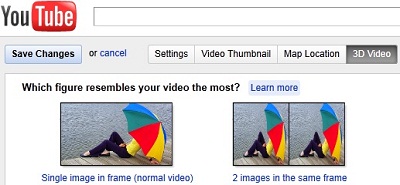 15 Minutes Limit Removal For Verified Users
Although i don't recommend to use more than 15 minutes video (and not even more than 5 minutes video) for marketing purposes, it still can assist many of you who wants to upload longer videos. All you have to do to remove the 15 minutes limit is to verify your account (by providing your mobile number) and not to break the YouTube guidelines (keep it appropriate).
YouTube also assisting to upload longer videos by launching resumable uploads- If your computer has been shut down or your internet connection was lost during the upload process, you could continue it later from the point you have stopped.
New Video Editing Tools
YouTube has partnered with two new video editing tools that will be available on Youtube.com/create:
Vix- Allows you to add effects to the beginning and closing of the video.
Magisto- Edit up to 16 videos at once into one fun video clip. Watch this video for more information about Magisto: