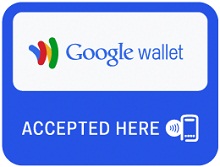 After the rumors and leaked documents, Google Wallet has been launched yesterday as expected. The new (much more than a) mobile app that announced, is nothing less than a revolution for the consumer habits, the only problem its pretty limited at the moment…
How Google Wallet Works?
Google Wallet is a mobile app that designated to replace your old-fashioned aged wallet- By using a new technology called Near Field Communication (NFC) that connects two devices close to each other, the customer can pay just by clicking on his smartphone, or as Google Calls it "Tap To Pay".
The payment is processed through the customer credit card (right now only Citi MasterCard) or through Google Prepaid Card at places that supports these kind of payment method. The following symbols will appear in those merchant locations:

Limitations
Currently, there are 3 major limitations to Google Wallet:
1.  It is only available on Sprint Nexus S 4G phones. Google are known to experiment new products with limited number of users first and gradually open them for all, like Google+.
2.  Although that Visa, Discover and American Express will be available in Google Wallet in the future, right now the only supported credit card is Citi MasterCard. To answer that, Google also launched Prepaid Cards where you can receive free $10 gift if you purchase it until the end of the year.
3.  Paying with Google Wallet is only available in merchant places that supports it, which is yet to be widely distributed.
Final Thoughts
Although it is pretty limited at the moment, Google Wallet revolutionize our consumer habits and behavior. I predict it will take a big part of merchant (online and offline) and therefore will influence directly also on working from home. If you are a merchant, you can enter Google Wallet for merchants to prepare your business for the revolution…
Google Wallet brings a direct competition to PayPal (why people would need 2 online payment accounts?), which will have to renew and innovate to keep up with the technological pace.
Video: Introduction To Google Wallet